Audio-Visuel – Cinema/Vido/Crossmedia/Transmdia
Pépinières continue their exploration of young creation by broadly opening up their research spectrum to all forms of artistic creation that renew cinematographic creation.
Whichever the training course they may have been through – cinema schools, visual arts schools, digital arts or other -, all of the young filmmakers whose films are presented in the frame of "Young creation video-cinema" bring an unexpected vision and show a inventiveness that touches us and questions us.
Each year is a new opportunity to develop contacts with professionals: producers and festival programmers.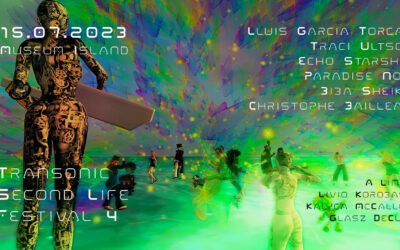 For this beginning of the summer vacation period, here is the 4th edition of this online micro festival, which is part of the "Transonic Second Life Sessions". These events offer, in different Second Life venues, concerts and audio-visual performances by bringing together around a community of sound and multimedia artists, and visitors who, in a spirit both playful and adventurous, discover or follow the development of international talents who perform in various avatars.
This series of performances by artists associated with the Transconic label in Second Life is part of the NoLA – No Lockdown Art initiative of Transcultures and European Pepinières of Creation since the first lockdown due to the health crisis since March 2020.
read more