The European Pepinieres of Creation invest each year in the production of actions, projects or artistic and cultural works with particular attention paid to contemporary and intermedia arts, digital arts and arts / science projects, sound arts, videographic arts, performing arts (with specific attention to performance outside of the traditional forms of theatre and dance), contemporary poetry and, more generally, new forms of hybrid writing… by promoting as much as possible the transversality between the different disciplines, practices and skills.
European Pepinieres of Creation – Production and co-production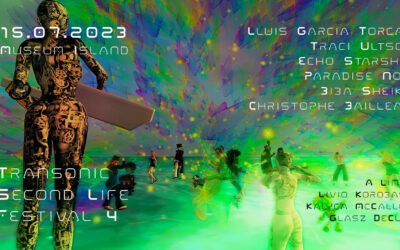 For this beginning of the summer vacation period, here is the 4th edition of this online micro festival, which is part of the "Transonic Second Life Sessions". These events offer, in different Second Life venues, concerts and audio-visual performances by bringing together around a community of sound and multimedia artists, and visitors who, in a spirit both playful and adventurous, discover or follow the development of international talents who perform in various avatars.
This series of performances by artists associated with the Transconic label in Second Life is part of the NoLA – No Lockdown Art initiative of Transcultures and European Pepinières of Creation since the first lockdown due to the health crisis since March 2020.