The artist Rachel M. Cholz presents a first single-band version of his multidisciplinary project "Viens Valeur", which focuses on the fetishism of objects as sound and poetic possibilities.
Interactive project with a particular writing, it is directly inspired by the ASMR process and offers an unprecedented dramaturgy with several youtubers. Playing with semiotic paradoxes faced with the disinterest of the object as a carrier of meaning, the work generates a shift and thus offers another form of narration. The project questions the image through the networks and the enhancement of the today icon.
ASMR – "The Autonomous Sensory Meridian Response", is a distinct, pleasant sensation of tingling or shivering in the skull, scalp or peripheral areas of the body, in response to a stimulus. visual, auditory, olfactory or cognitive.

It was in 2008 that Jennifer Allen, an American cybersecurity professional, realized that several videos caused her a pleasant and soothing feeling. In 2009, she found a message from a user on a forum evoking this mysterious sensation, described as an "orgasm" of the brain. Internet users are starting to share videos that trigger the desired sensation. In order to prevent this cerebral pleasure from being associated with eroticism, Jennifer Allen decides to find a scientific name for the phenomenon (with a reference to the energy pathways of Chinese medicine -meridian- and the reaction specific to each individual -autonomous- facing external elements).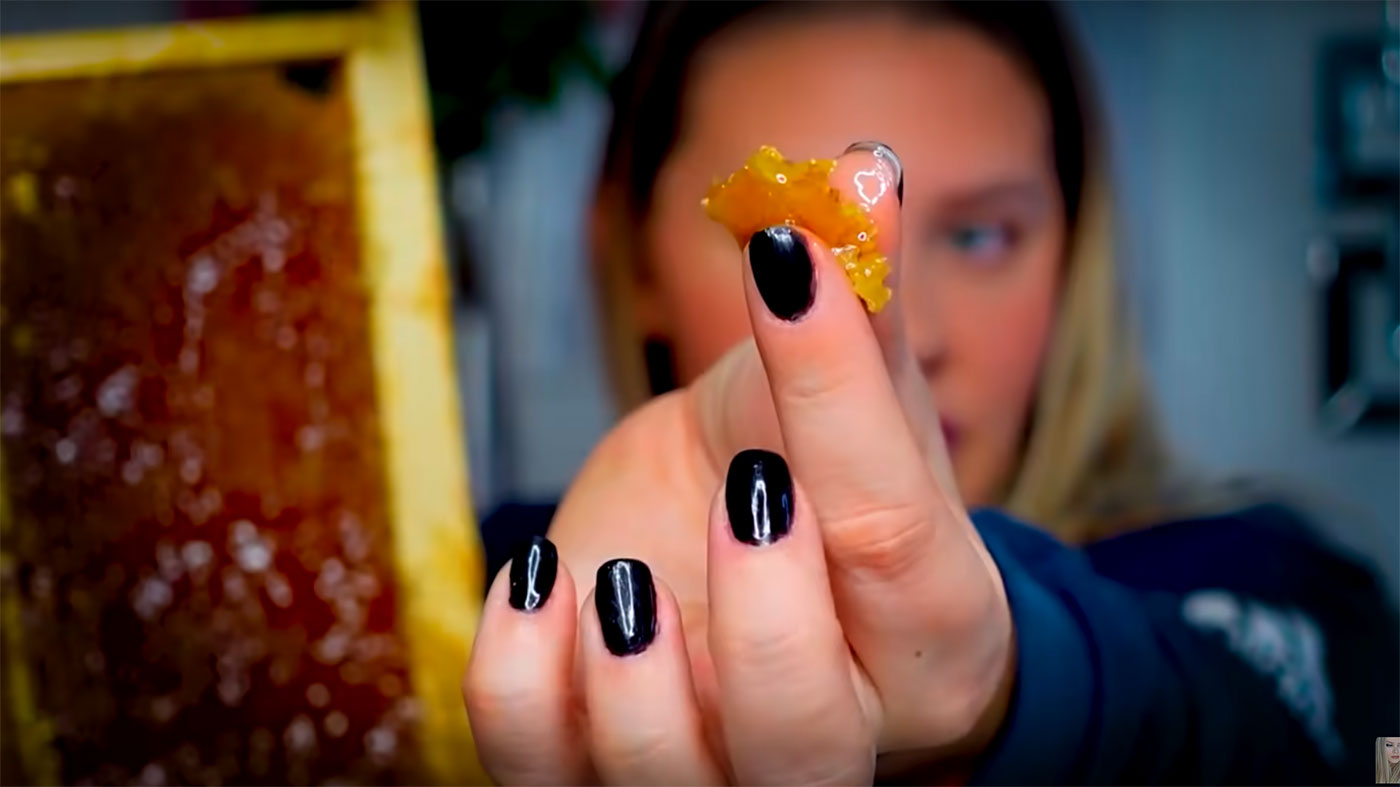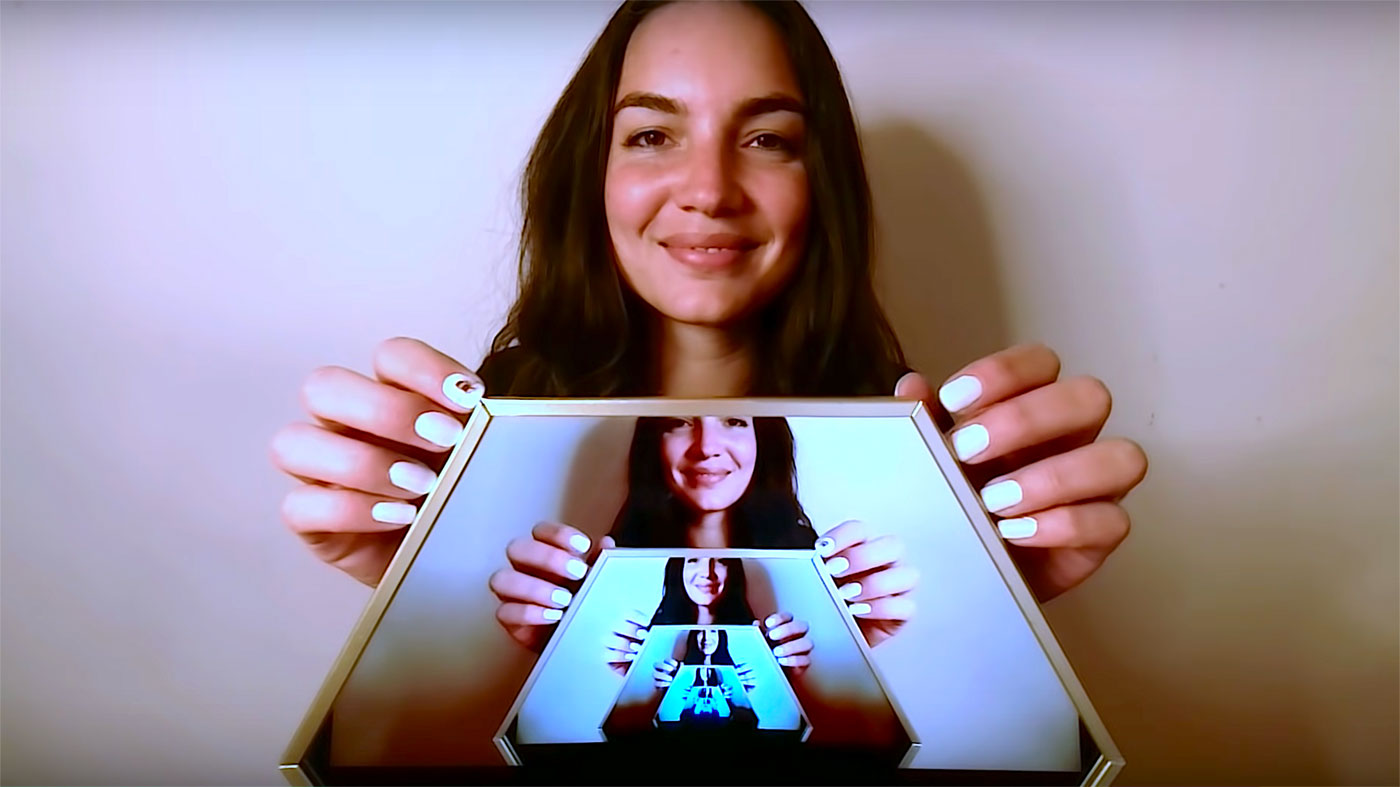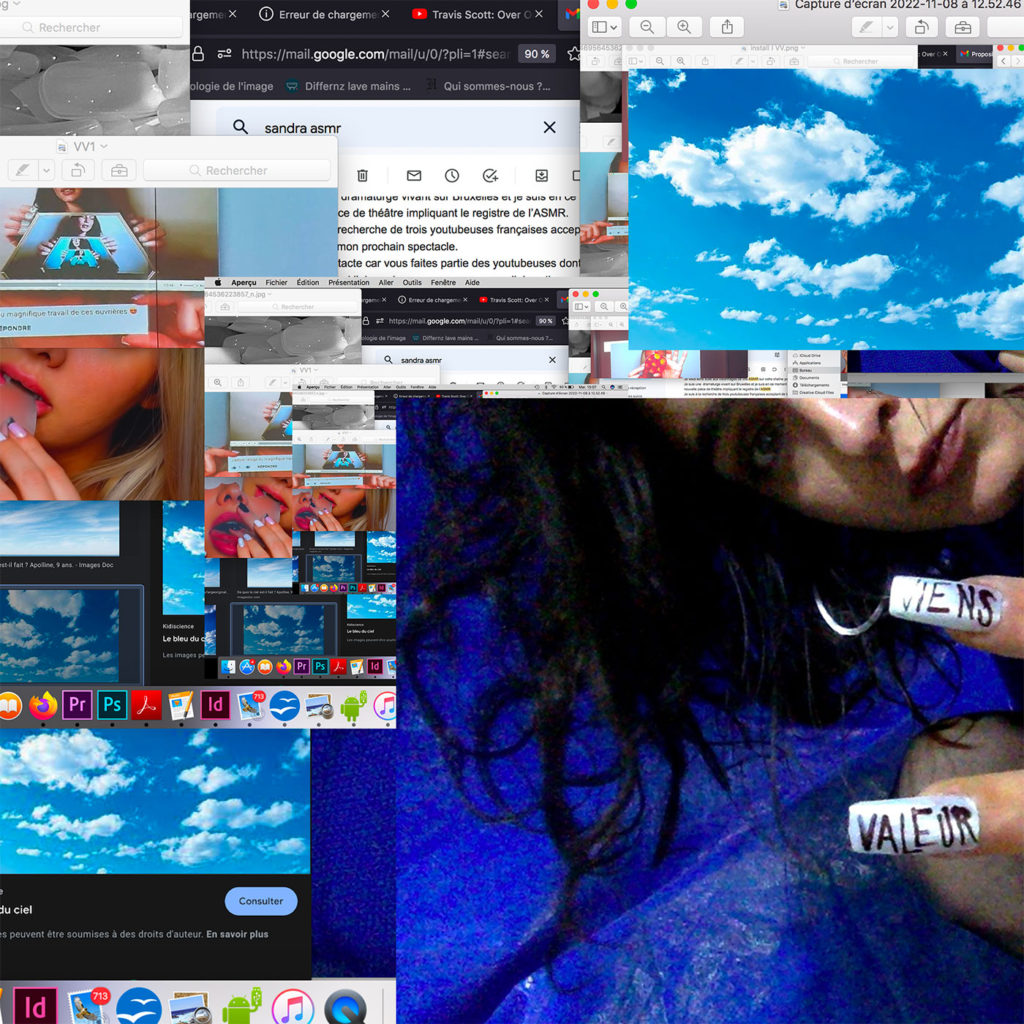 Rachel M. Cholz
Rachel M. Cholz divides her time between Geneva, Paris and Brussels, where she currently lives. Besides writing stories, she writes and creates projects for the stage and digital arts. By placing the language at the center of the dramaturgy, she delights in the paradoxes of language like nail art in the grease.
She moved to Brussels in 2010 where she began a course at ENSAV La Cambre. Following a bachelor's degree in Urban Space (Art in Public Space) with sound and print-making option, she set up an engraving studio and worked there for four years while getting involved in a performance collective and professionalizing herself as a lighting designer. At the same time, she developed writing work, deciding to specialize in writing for installation/performance and theatre. She then completed a master's degree in theatrical writing at INSAS, from 2016 to 2018.
Today, she participates in open mics, storytelling, installation-performance and theater. Through her structure called Avril[s], Rachel M. Cholz aims to stage her texts, but also works on multidisciplinary projects. In 2021, she staged her play Trois pour cent sauvage, which was created at the Bellone, at the Project(ion) room, then performed at the Le Lac cultural center and at the Open Theater.
She likes to work in collaboration with people who are not directly linked to the world of the stage, in formats that are not necessarily entertainment. Apart from his staging, and the Viens Valeur project, his latest story No ou le pactole, reporting on street life in Brussels (winner of national aid for the creation of dramatic texts from ARTCENA) has been published by La Lettre Volée in 2022.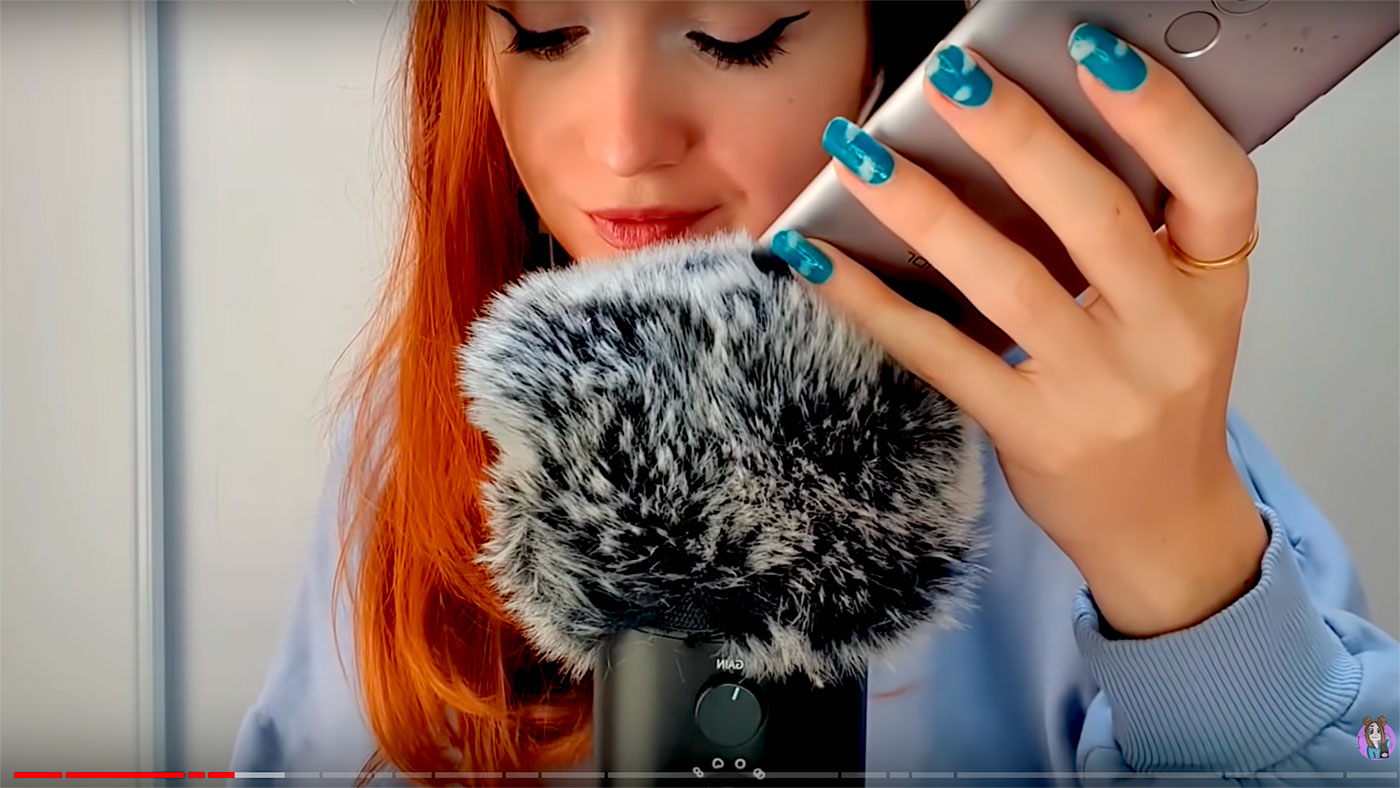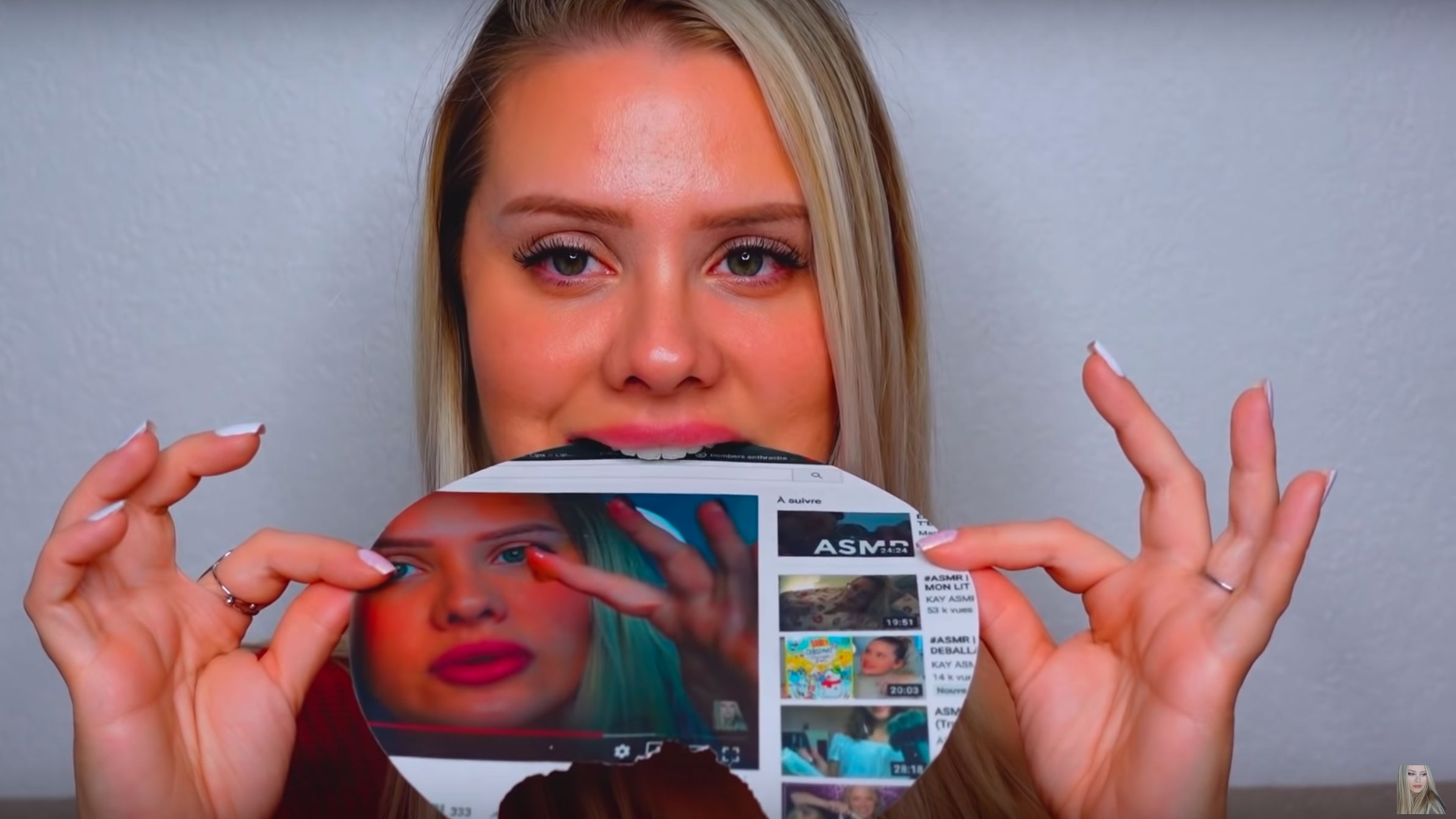 Sweet B.I.O.S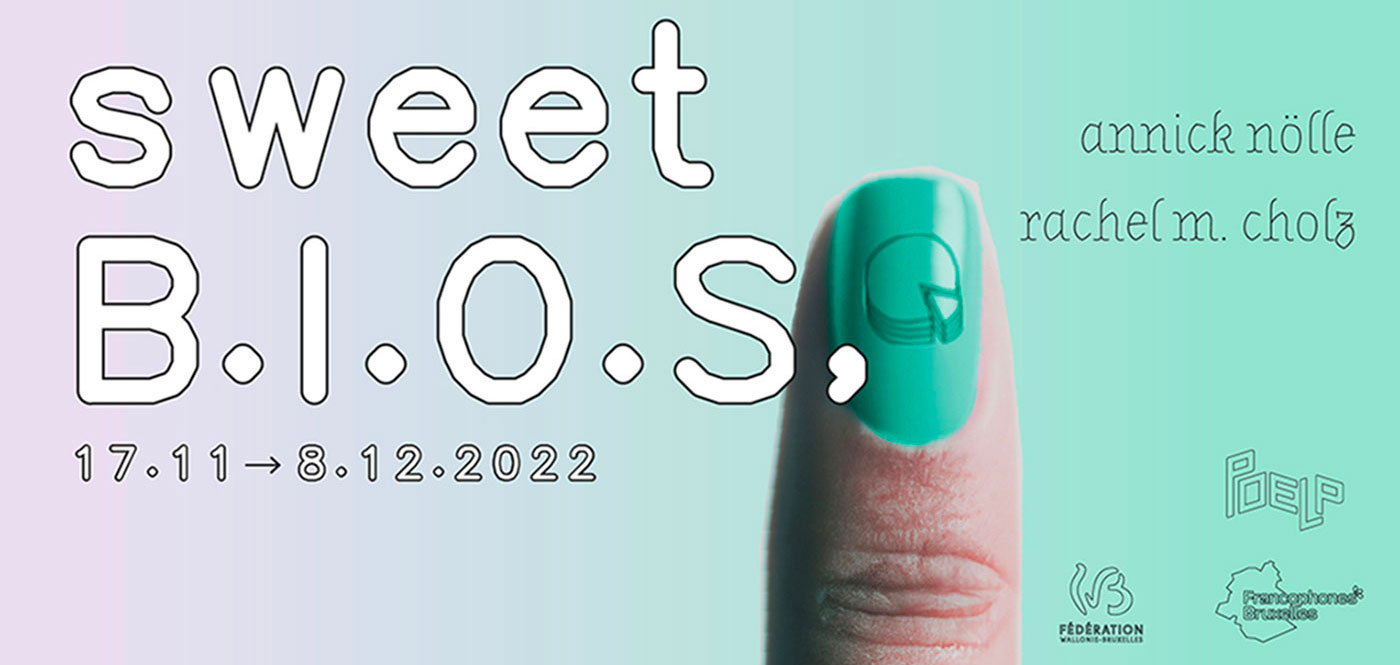 For this first POELP exhibition, the curators have decided to focus the proposal on the singular universes of two artists with very distinct practices. Their approaches have in common to thwart the codes of an environment or a gesture to propose new narratives – changing a line of code in the B.I.O.S. to unformat the system. The related works tend to come together around the diversion of objects, the poetry of forms and the deviation of language.
In the exhibition Sweet B.I.O.S, it will be about ASMR and new icons, a picnic tablecloth and a smoking rock-potato.
Curators: Mélanie Peduzzi and Sabine Sil
Infos
17.11 > 08.12.2022
Opening: 17-11-2022 de 18h à 21h
Exhibition: je & ve: 15h-19h – sa & di: 14h-18h
POELP
Rue Bara 123, 1070 Anderlecht
Production
POELP is supported by the Fédération Wallonie-Bruxelles and COCOF.
Viens Valeur received support from : The Wallonia-Brussels Federation digital arts center – iMAL – The Ephemeral Castle – The Theater Factory – Transcultures – European Pepinieres of Creation – The Villa la Brugère
Viens Valeur banner : KAY ASMR