Transcultures, Užiateka, European Pepinieres of Creation and Ideas Block present City Sonic Vilnius Soundcamp, a sound art workshop (6 >11 March 2023) at Kompresoriné/ Ideas Block (Vilnius) featuring participants from Lithuania coordinated by Belgian and French sound/intermedia artists Philippe Franck (aka Paradise Now), Tommy Lawson, Christian Vialard.
This workshop inspired by the sonic life of the city, will give birth to a visual and sound arts exhibition (opening March 11) & performances by Lithuanian and international artists on March 11, 12 & 18.
Participants
Edvinas Siliūnas
Alesijus Sapiego
Hasan Alp Celikel
Kotryna Kvedarytė
Gediminas Stepanavičius
Raimonda Žiūkaitė & Agnė Žiūkaitė
Toma Čepaitė
Krzysztof Kris
Context
During this workshop and through the diverse sounds of Vilnius city, the participants will learn, explore and share their collective or individual creations in collaboration with French sound artists to the Vilnius public to experience a new perspective of the city. This Sound Camp is also about promoting collaboration between artists of different practices and aesthetics, always starting from their energy, their desire, and their creativity.
The events will take place in Kompresorinė Cultural Center, open for interdisciplinary projects. The venue holds an ambisonic sound system which can also be used in the City Sonic Sound Camp. The technical crew will be ready to support the participants.
City Sonic Vilnius team is going to support most of the traveling, accommodation, meals, materials and equipment costs.
Philosophy
LESS IS MORE – low tech rather than high tech – not a technical workshop but more of a participative creative masterclass
We will be content oriented – how can we create and tell a sonic or audio-visual "story" (even abstract) together about different visions of this Vilnius district.
The 3 coordinators will accompagny the participants both critically and tehnically, they can also participate artistically (both with sounds and images)
The lituanian artistist, Kotryna Žilinskaitė (Creative director of Užiateka) will film the process
Hasan Alp Celikel (Art director of Užiateka) and the audio engineer Roberto Beccera can help for the technique
Sound Camp workshop
The participants will first work on the sound recording (field recording) in the city of Vilnius, which can evolve into situations invented and constructed on the spot.
Each place can be documented in its sonic characteristics or become a basis for the elaboration of a form of a poetic story or a small fiction inspired by the area and its inhabitants.
The audio recordings will be the material that can be processed or reinvented in the studio.
What we are interested in here is to be able to put a form of presence and attention to the urban environment as well as its metamorphosis into resonance and listening, and also to reveal, with the help of sound (or possibly the image of sound) certain particular places in the city of Vilnius but also strange and poetic situations.
Workshop coordinators / Exhibition curators
Philippe Franck (Fr/Be), Tommy Lawson (Tg/Fr), Christian Vialard (Fr)
Sound Camp – Exposition
At the end of 5 days of workshops and joint intensive experiences, an exhibition is planned with a sound (listening to the finalized creative works) and with a visual (a photographic, video, graphic, or multimedia look at the process and the images of this sound experience) component, as well as with sound performances (notably by the 3 guest creators-coordinators-curators, and also by Lithuanian artists).
Finally, in the coming weeks after this first City Sonic Vilnius Sound Camp, it is planned to publish the issues and final creations of the participants in audio, on the web, and in the form of printed materials.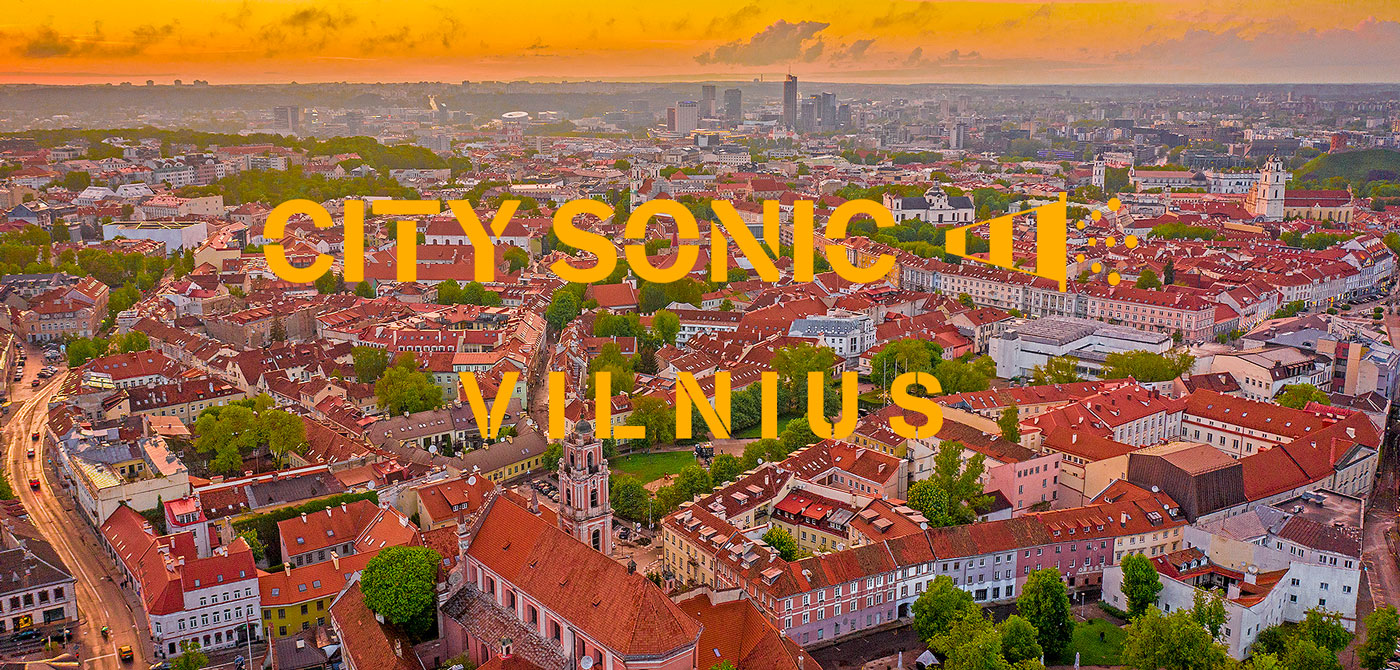 Infos
06.03 > 18.03.2023
11.03.2023 – 19:00 | Exhibition
14 > 18.03.2023 | 09 > 17:00
18.03.2023 – 11 > 22:00 | Closing Event
20:00 | Performance
A. Goštauto st. 11, Vilnius, Lithuania
info : info.uziateka@gmail.com
Production