For 4 years, the Center de la Marionnette (Tournai) and Transcultures – Pepinieres of Creation have joined forces at the annual Lumen event to support and promote digital, intermedia or / and sound projects by students from the Eurometropolis: Arts2 – Visual Arts School of Mons,  ESA – Academy of Fine Arts of Tournai, Art School ESÄ – Nord Pas de Calais / Tourcoing – Dunkirk.
Each year, the structures also launch a national and international call for participation in the direction of artists who work at the intersections of digital arts, sciences and puppetry arts. This year 2 artists ( Veronika Akopova et Jean -Philippe Loridan) were awarded this aid grant.
Note also for this edition 2021, the presence of the pioneer artist Zaven Paré (FR) in the transdisciplinary fields of arts, robotics and contemporary puppetry arts.
Lumen, a flagship event where puppets and digital arts meet at the Centre of the Puppet Art. The programming of each edition is family and free! Each of the editions invites the public to discover surprising, poetic and unique universes. During Lumen # 6, for a month, around ten works by emerging or confirmed artists, from the Wallonia-Brussels Federation and elsewhere will be visible to discover the art of manipulation of objects, images, of bodies under the eye of digital arts. Lumen focuses this year on Zaven Paré,  visual artist, precursor of the electronic puppet.
13 > 24.10.2021 | Digital Emergences exhibition
Séraphim Soupizet (Fr) – Murailles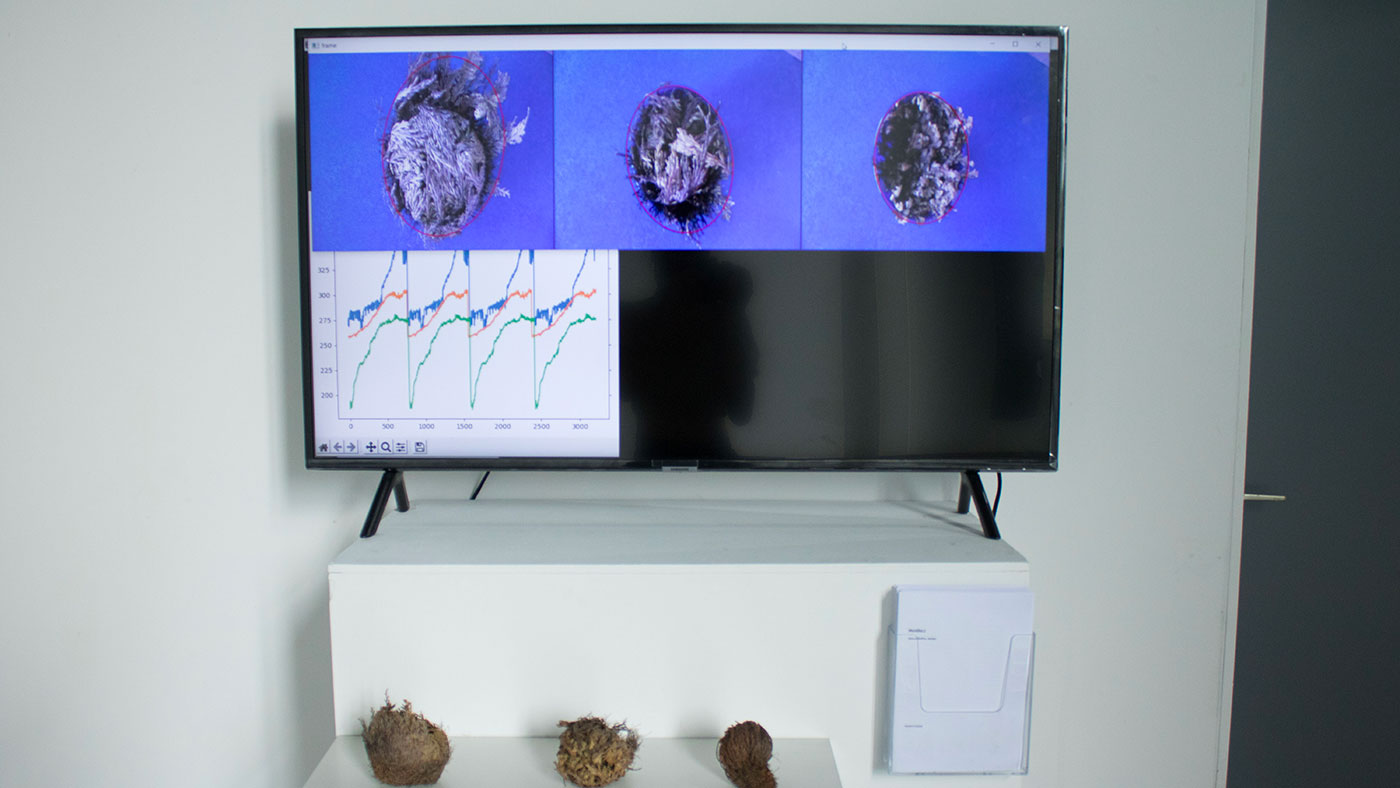 'Murailles' tries to make the Roses of Jericho, desert plants play modal music.
These prehistoric ferns have the particularity of having movements visible to the naked eye when in contact with water. Thanks to cameras and a visual data processing program, the plant quartet produces music almost autonomously.
Graduated from the Art School of  Nord-Pas-de-Calais Dunkirk / Tourcoing, Séraphim Soupizet's approach is developed around the notions of inframince and punctum. He seeks to share his fascination with certain things with humor and poetry.
Thibault Drouillon (Be) – Empty tape loop make generative composition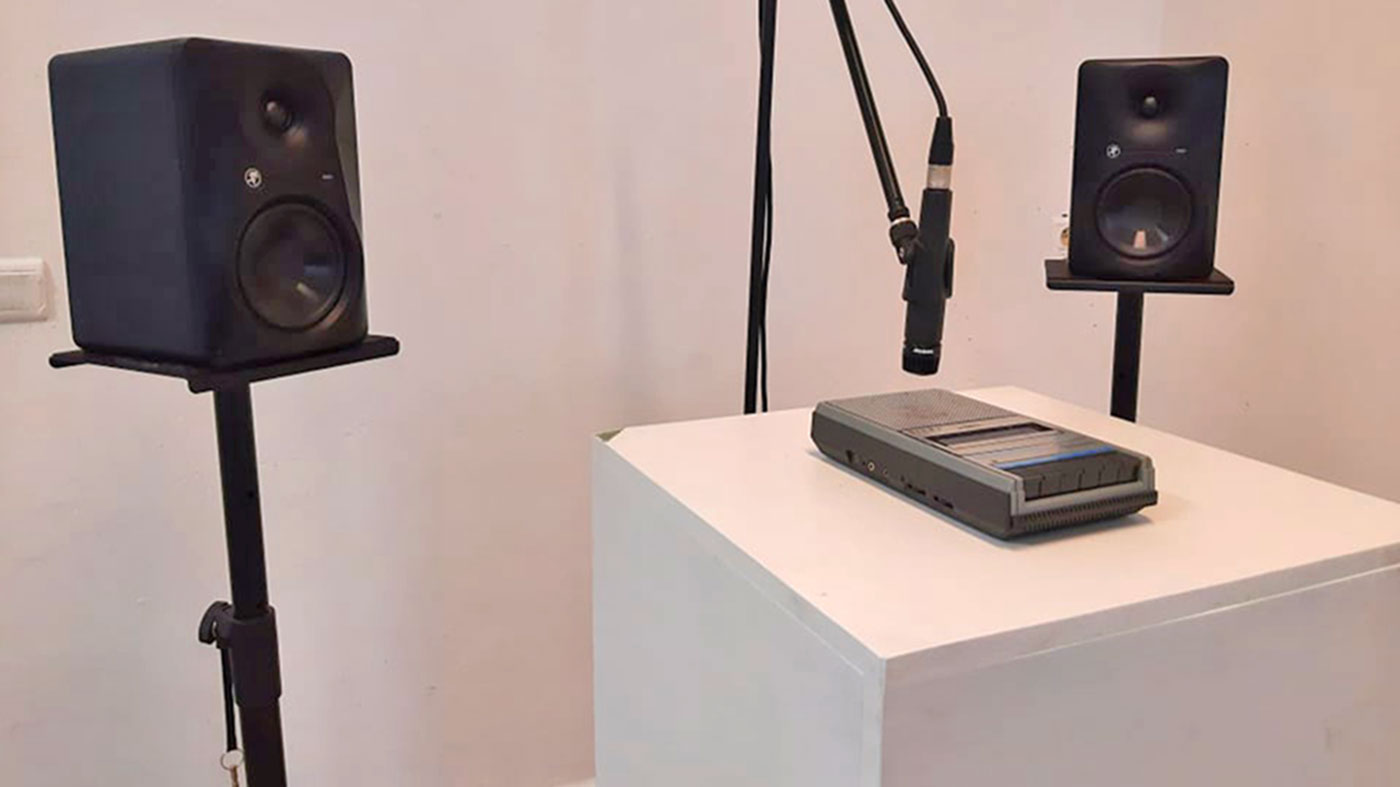 Sound device where a blank cassette is played by a player. Although nothing was recorded there, this analog device generates sounds similar to crackles and white noise. These are picked up by a microphone blowing it directly into a looper with generative properties. The noise generated by the blank cassette therefore becomes the fruit of an indeterminate and infinite composition, continually reinventing itself.
Thibaut Drouillon began in 2016 to study at the school of visual arts ARTS² (Mons) in the IDM (image in the context) section, marking a turning point in his vision of art that resulted in the discovery of sonic art. He then participated for two years in the workshop "Sonic and Digital Emergences" organized by Transcultures. This led to participation in two group exhibitions: he presented the piece "Percécité" at City Sonic festival in 2017 in Charleroi and Jump Vox" at City Sonic 2019 in  Louvain-La-Neuve en 2019 ; his work "Machines sonores", was shown at the Digital contemplation event in Villers-la-Ville in 2018. He  was an  Erasmus student  at Villa Arson (Art School of Nice), as part of his master's degree. He continues to be supported by Transcultures.
La chambre | Cédric Shaack (Be)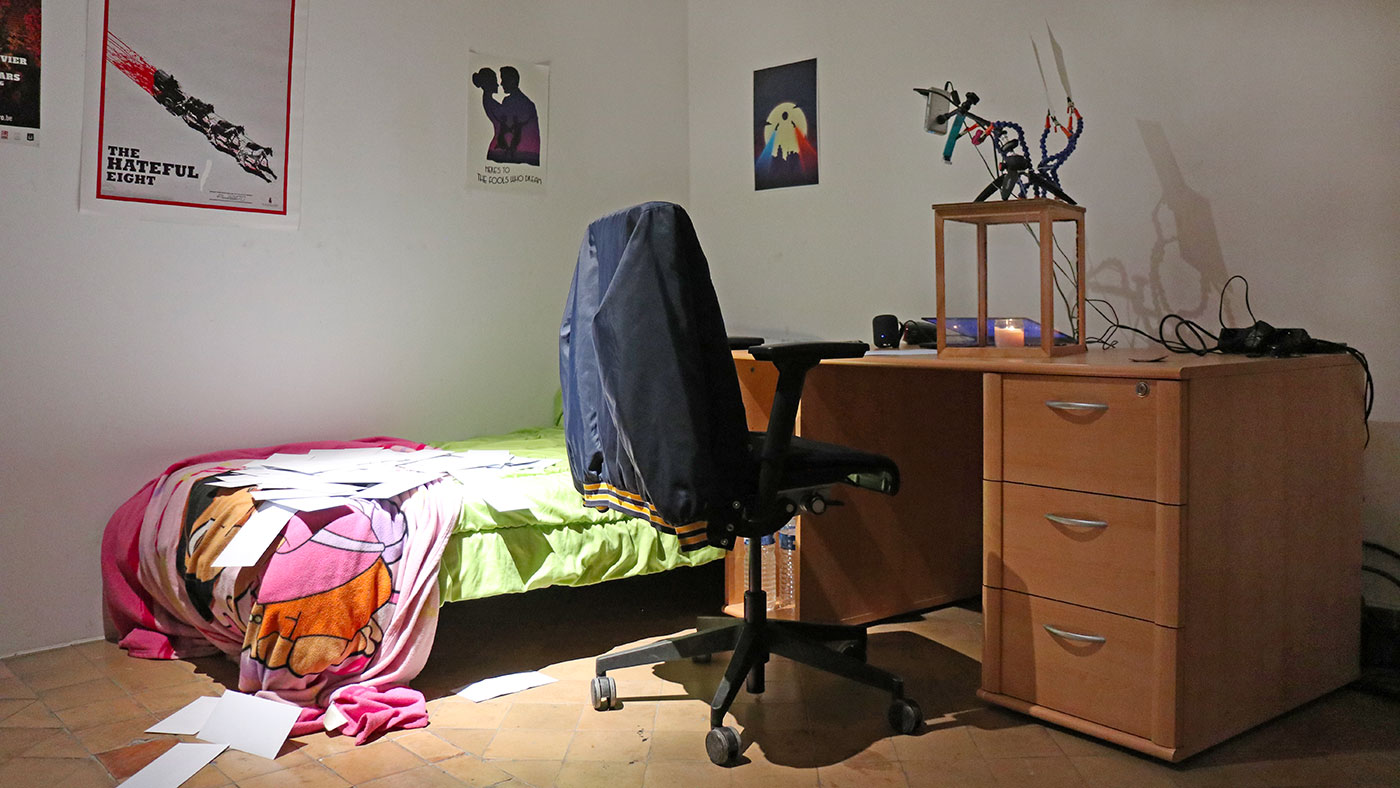 Cédric Shaack invites the visitor to his confined room reproduced in the exhibition room and to choose a white envelope on his desk. Each contains a sheet with a QR code that gives access just for Lumen's time to the comments of a trans person invited for the occasion by the artist sensitive to the current issues of the expression of diversity.
Cédric Shaack likes to make people smile. And that's where his ideas develop. He seeks to create pieces that will make people who see them smile. And to leave traces that will make them smile even later. Cédric Shaack is in master's degree at ARTS2 (Mons) – digital arts dpt.
Ismaël Cabelo Salcedo (MX) – Chronique d'une pandémie + El Viaje Definitivo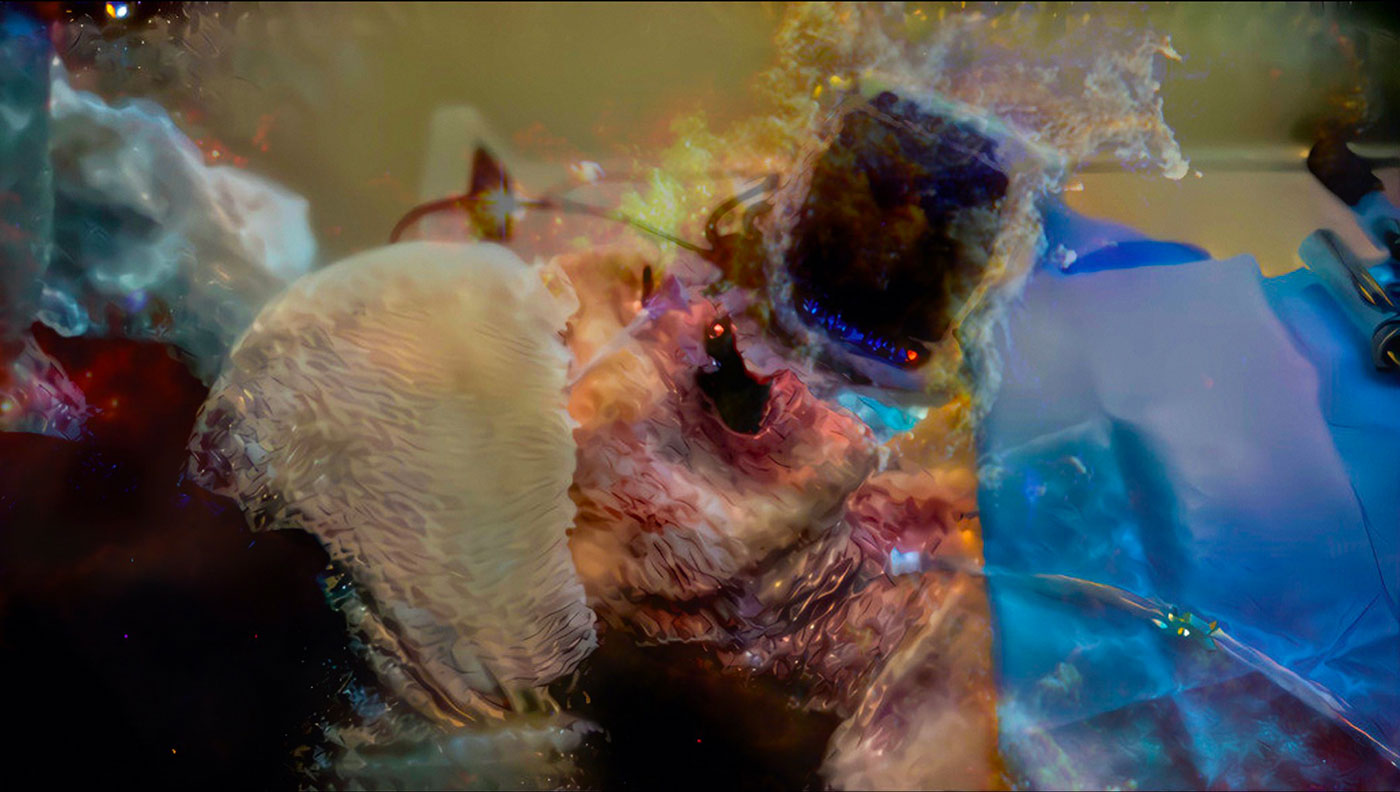 Chronicle of a pandemic
In this sound piece, the aim is to approach the chronicle of the pandemic through symbolic speeches that show the reactions that several political leaders from different countries  have communicated to the situation, each speech being able to resemble a copy of another in a form of repetition on an international media scale.
El Viaje Definitivo
This intermedia installation in several parts (here in fluctuating augmented reality scenes), invites us to reflect on our possible future. "The only destination is at the end of the road. In the middle of the trip, the possibilities are endless but every moment is experienced as a first time, without preparation ".
Multidisciplinary artist of Mexican origin, Ismaël Cabelo Salcedo graduated from ARTS2 (Mons) – digital arts dpt.
Lumen #6 – Laureats call
Bok-o-bok (Fr/Ru) – Flying Bodies across the field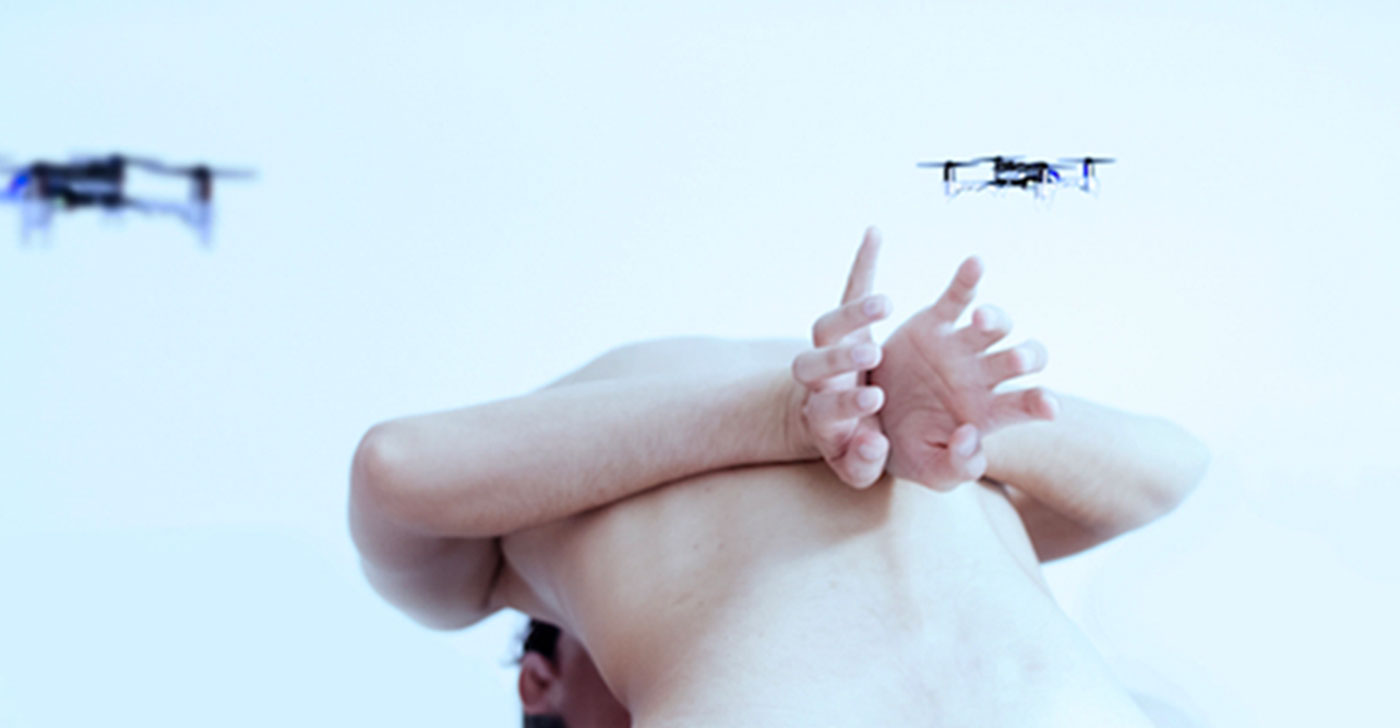 'Flying Bodies Across the Fields' is a choreographic piece for four performers and a swarm of drones, exploring the phenomenon of bee disappearance and the use of pollinating drones to compensate for this loss.
Strongly inspired by current research in biology and robotics, this project questions the limits of humans to imitate nature and their place in a world where the machine becomes responsible for the reproduction of plants, and therefore for the creation of life.
performance on October 13, 2021 – 7 p.m.
Tournai Conservatory
Free entry by reservation
Veronika Akopova is a Russian dancer, choreographer and videographer based in France. She started dancing at the age of five in Moscow. She graduated from Moscow State University and moved to Paris in 2010, where she researched in the field of poetry and dance at the Sorbonne. She trained as a dance artist at ACTS School of Contemporary Dance in Paris and the National Dance Center, supported by Adami. She danced for Iván Pérez in "The Inhabitants", "Impression" and "Becoming" at Dance Theatre Heidelberg in Germany, as well as for the French choreographer Sylvain Groud and the Israeli company C.a.t.a.m.o.n dance group. She created her first works presented and awarded at international festivals: a solo "Entrelacs" (2015) and a videodance "Catharsis" (2016), then co-directed and choreographed the videodance "Rand()" (2018), commissioned by a Russian organization for contemporary dance.

Florian Goralsky is a French director, editor and cinematographer born in Strasbourg in 1990. Until 2012 he worked in Strasbourg on several documentaries, in particular for Arte or the European institutions. He participated in the creation of the Virtual Reality (VR) pole of the parisian agency neostory (Axxess Group) as an artistic advisor. He is a director of photography of Veronika's dance film "Catharsis" and a co-director of "Rand()". In 2019 he also directed a short film "Unstable seasons" in partnership with local institutions in France.

Conception and choreography: Veronika Akopova / Performers: Veronika Akopova, Clément Fleuriel, Julie Vivès / Drone development: Florian Goralsky / Musical creation: Andrei Karasyov / Costume creation: Laure Fernandez, Jade Basset / Co-productions: Gdansk / Klub Dance Festival ak, Dance Theater Heidelberg / Theater und Orchester Heidelberg, Scènes & Territoires Support: Île-de-France Region, DRAC Grand Est, Groupe Caisse des Dépôts, Theaters of Val d'Yerres, CCN de Roubaix / Ballet du Nord, Ville d'Obernai, Center National de la Danse / This project is the 2020 winner of the Regional Fund for Emerging Talents (FoRTE), funded by the Île-de-France Region.
bok-o-bok.org
Jean-Philippe Loridan (Be) – Routine
This work offers a reflection on being, the presence associated with the digital universe. A series of individuals, left behind living in a neutral environment.
Go around in circles … organisms that were once human through the use of the motion capture technique: recordings of past, biological movements, choreography of banal and fragile moments.
Opening on Wednesday, October 13
Installation  from October 13 to 24, 2021
Centre de la Marionnette de la Fédération Wallonie-Bruxelles
Jean –Philippe Loridan comes from the Fine Arts school of Dunkirk and Tourcoing. Artist and Video Performer, he shines on many projects such as Stabil, a platform for emotional exploration of our technological environment. Real-time navigation in a 3-dimensional environment interacted with digital music. Digital artist, his work constructs a kaleidoscopic augmented reality that varies between stripping and saturation. Its virtual worlds carry with them reminiscences of our current society split into multiple facets.
jeanphilippeloridan.com
03 > 24.10.2021 | Exhibition – Ouvrages encore sur établis – Zaven Paré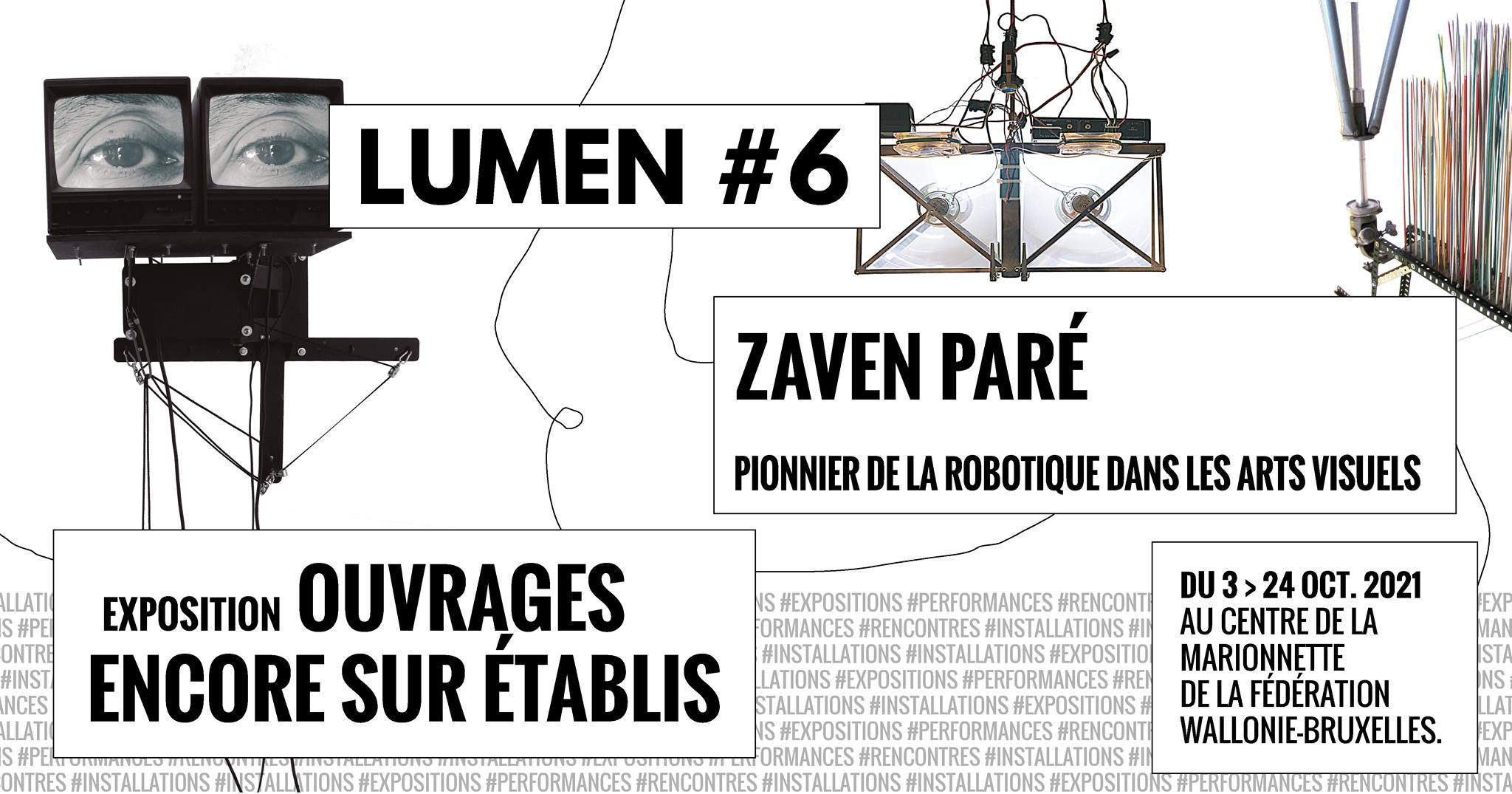 This exhibition features a few specimens of machines, sketches of optical, mechanical, pneumatic, electromechanical and electronic devices, built by visual artist and director Zaven Paré. It works, it doesn't, but is it all really reasonable?
Zaven Paré sketches his projects as so many poetic attempts to give life to fragmented bodies, hands or legs, for example; monsters such as a two-headed dog, among others. But nothing very frightening, since its machines threaten above all to break down. Between low tech and high tech, his artefacts seem to pose as many questions as this artist can have doubts about the art and the necessity of it all. It sometimes has an air of resemblance, it speaks a little, it barely moves, it makes simple clicks or it pulses.
In general, the object theater tries to offer the staging of their modes of existence, here Zaven Paré offers us a small inventory.
Zaven Paré builds the machines he draws (Ballard Museum of Puppetry, Connecticut and Musée Gadagne, Lyon collections). Paré was born in Fort de l'Eau (Algeria) and grew up in the Paris region. He studied painting and engraving at the École Nationale Supérieure des Beaux Arts in Paris and scientific drawing at the National Museum of Natural History. In 1983, he exhibited his first major installation at the Museum of Modern Art of the City of Paris.
Paré settled in Montréal in 1986, where he worked on multiple fronts including illustration, painting and design, crossing the boundaries of traditional models of creation with various media. Painting occupied a large part of his work during the prolific 1980s, during which he also designed sets and costumes for the choreographers Marie Chouinard and Edouard Lock, in addition to the composer Mauricio Kagel and for the director Denis Marleau.
Upon returning to France in the 1990s, Zaven resumed printmaking and published numerous artist's books, and also accepted commissions from prestigious manufactures such as Aubusson, Beauvais and Sèvres. Zaven Paré is also known as a performer, notably for his use of robotics.
Paré holds a Post-Doctorate in Robotics from Osaka University (2010) and a Doctorate in Letters from the University of Metz (2009). He is an associate researcher of the Japanese Populations (INALCO), Anthropology and Anthropomorphism (ARTMAP) and Theatricality, Performativity and Presence Effects (UQAM / Canada) laboratories. He was laureate of the French American Fund of Performing Arts at the Californian Institute for the Arts (CalArts) in Los Angeles (1999-2001), and of the Arte e Tecnologia – RioArte grant in Brazil (2002).
Furthermore, Paré was awarded a residency at Villa Kujoyama as well as a grant from the Japan Society for Promotion of Science (JSPS) while working as a Robot Drama Researcher on playwright Oriza Hirata's theatre repertoire for humanoids and androids in the Intelligent Robotics Laboratory, directed by Professor Hiroshi Ishiguro.
Paré received the Sergio Motta award (São Paulo/Brésil) for his artistic career in 2011.
(Biography > Galerie Charlot – Paris)
zavenpare.com
Infos
03 > 24.10.2021| Festival
13 > 24.10.2021| Transcultures @ Lumen #6
Maison de la Marionnette de la Fédération Wallonie-Bruxelles
Rue Saint-Martin 47 7500 Tournai – Belgique
Production
Maison de la Marionette, Transcultures

In partnership with Transcultures, the European Creation Nurseries.

With the support of Arts2 – ESA Mons, ESA – Academy of Fine Arts of Tournai, ESÄ – Nord Pas de Calais / Tourcoing – Dunkirk.

Lumen # 6 is part of the Art in the City programming.

With the support of the Wallonia-Brussels Federation – Cellule Arts Numériques and the Province of Hainaut.