Katatonic Silentio and Demetrio Cecchitelli were the first resident artists of the "Radio Residenze" project (in collaboration with Usmaradio, Giardini Pensili and the European Pepinieres of Creation). The artists worked in the spaces of Giardini Pensili, on the hills of Rimini, on an original project: A reworking of the sound archives collected over time by the two artists, which mix and merge with electroacoustic improvisation practices in real time.
This gives rise today to a live radio performance on Usmaradio and with the presence of the public in the studio.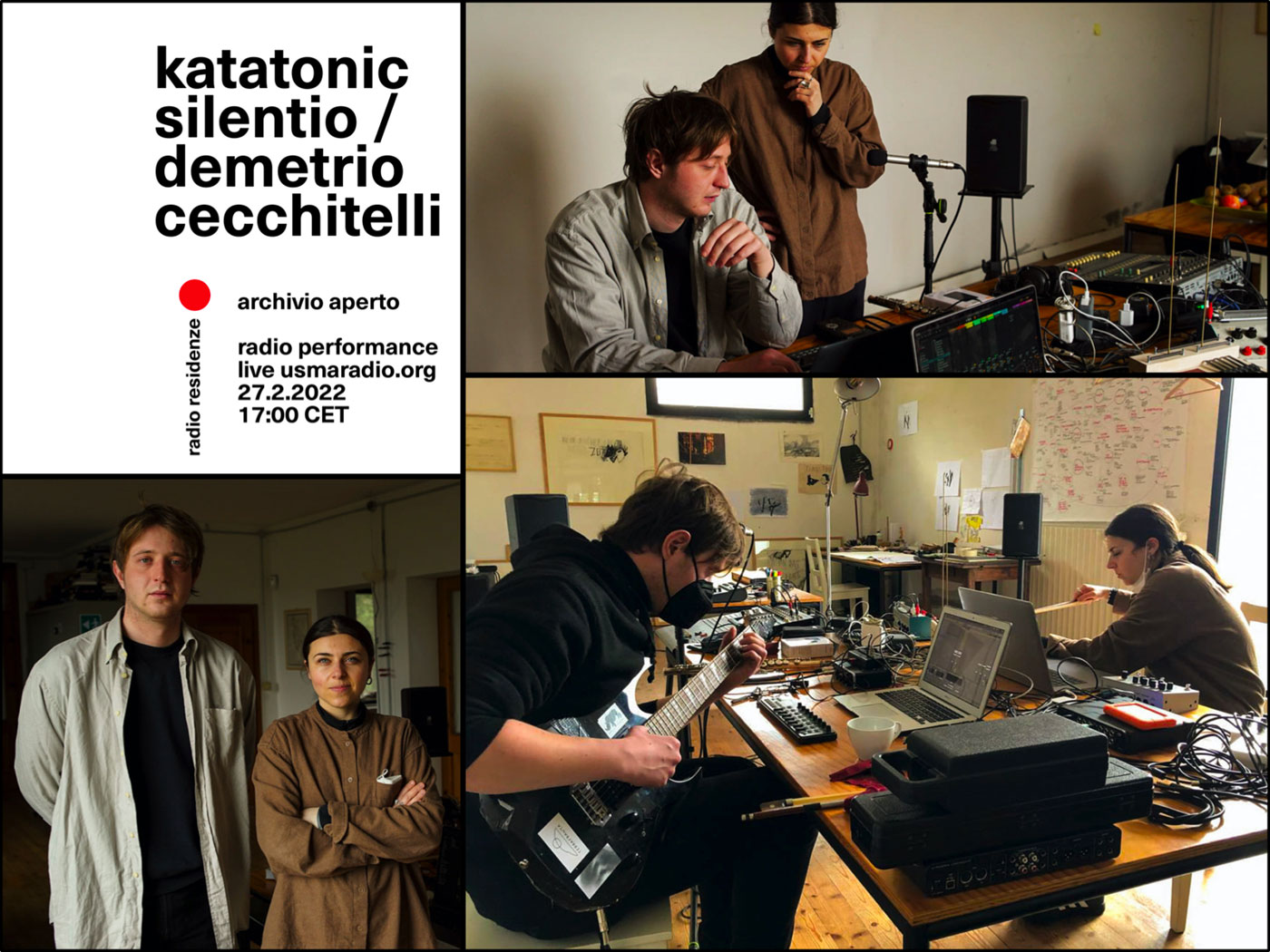 Katatonic Silentio
Sound artist and independent researcher in Sonic Arts and Media Cultures, Mariachiara Troianiello (aka Katatonic Silentio), has been exploring the fields of experimental and electronic music with a unique approach to sound design, releasing music and performing in many national and international festivals, theaters and venues across Europe.
The artist is also a member of the scientific board of Usmaradio: Interdepartmental Research Centre for Radiophonic Studies, UNIRSM, curator of Expanded Radio Research Unit: an independent radio art platform for innovative works at the intersection of music, spoken word, performance and sound to challenge the limits of broadcasting; resident artist on EOS Radio.
In addition to pursuing a multiple career in sound creation, Mariachiara is also active as an independent researcher: her practice converges halfway between sound and performance arts. Her keen curiosity for cultural studies, combined with a strong passion for music, led her to approach the world of sounds with a sociological and anthropological eye, viewing it as a critical device and indicator of society and its changes.
Demetrio Cecchitelli
Multi-instrumentalist musician, improviser, composer and research artist. Released worldwide on numerous record labels and web-labels, such as Whitelabrecs (UK), Healing Sound Propagandist (US), Unline (RU), Sounds Against Humanity (IT) and Élan Vital Recordings (Macedonia), among others.
He collaborated with theatre company Motus, choreographer and performer Stefania Tansini, director/curator Cecilia Lentini, transversal artist NicoNote, poet/dramaturg Gaia Ginevra Giorgi, electronic sound designer/researcher Katatonic Silentio, contemporary photographers Maria Vittoria Desiato, Chiara Benzi, Fabrizio Nisi.
Usmaradio
Radio of the University of the Republic of San Marino, Usmaradio was founded and directed by Roberto Paci Dalò, with the collaboration of Alessandro Renzi together with students and teachers – within the spaces of the Antico Monastero Santa Chiara. Since 2021 Usmaradio is the Research Centre for Radiophonic Studies of the University of San Marino.
Usmaradio has a 24/7 programming with hosts in various places (Europe, USA, China, India, a.o.) that broadcast programs also live through applications that allow to manage micro radio studios hosted by smartphones.
Students, faculty, and staff all work together in experimenting and creating a meeting place for people of every discipline where art, science and nature are intertwined in daily practice. Designers, artists, scientists, researchers, inventors, hackers, educators, journalists, economists, historians, cartographers, activists. An unusual radio also designed as an exhibition space where exhibitions are regularly presented working on sound in cooperation with local and international structures.
Usmaradio is a workplace of The School of Radio / Scuola di Radiofonia to develop an innovative radio pedagogy. Workshops, work sessions, meetings, presentations of live performance as sections of the project.
Giardini Pensili
The association is a non-profit organization that began its activity as an interdisciplinary theater company in 1985. Today the project includes a performing arts company, a think tank, a production house for the media in the broadest and most transdisciplinary sense. It is also a center for collaborations and networking activities. Its initiator and director, the artist Roberto Paci Dalò, has developed a theatrical language from his training in sound and visual arts, which combines spoken language with the body, architectural elements and a work articulated on acoustic and visual perception. . The continuous interrelation between art, science and nature drives the process.
Infos
21 > 27.02.2022
Giardini Pensili
Rimini Italy
Production
Giardini Pensili, Usmaradio, Transcultures, European Pepinieres of Creation
Giardini Pensili is a non-profit organization supported by the European Community, the Province of Rimini, the Regione Emilia-Romagna, the City of Rimini, and private institutions.