The documentary sculpture "February 20, 1998, Nagano" recreates life-size the famous backward somersault of French figure skater Surya Bonaly during the Olympic Games in Nagano. A feat which has since become for many the icon of the struggle of a woman, a minority or a difference.
During the 1998 Olympics in Nagano, French skater Surya Bonaly defies the members of the jury by performing a backward somersault prohibited in competition. A prodigious movement that she symbolically offers to the public. Although in reality she is not breaking the rules by landing on one leg, she will nonetheless be relegated to eleventh place in the long program. Since then, no athlete, female or male has achieved this extreme fgure in competition.
In addition, Surya Bonaly remains the only person to have accomplished a backward somersault by landing on one foot, giving his surname to this jump: the "Bonaly". This move that will close her competitive career is the symbolic gesture of a black athlete in one of the whitest sports there is. A sport in which she never ceased to try to push the limits but where her athletic style and her musculature, marked by her origins as a gymnast, did not espouse the canons of beauty in force at the time in skating. artistic.
In line with the work of the French Etienne-Jules Marey or the British photographer Eadweard Muybridge, famous for their research on the decomposition of movement, the conception of the sculpture February 20, 1998, Nagano requested an extremely precise analysis of the movement carried out by Surya Bonaly . The trajectory of the ice skates was broken down into a series of positions in three-dimensional space (and time) before being materialized again within the work.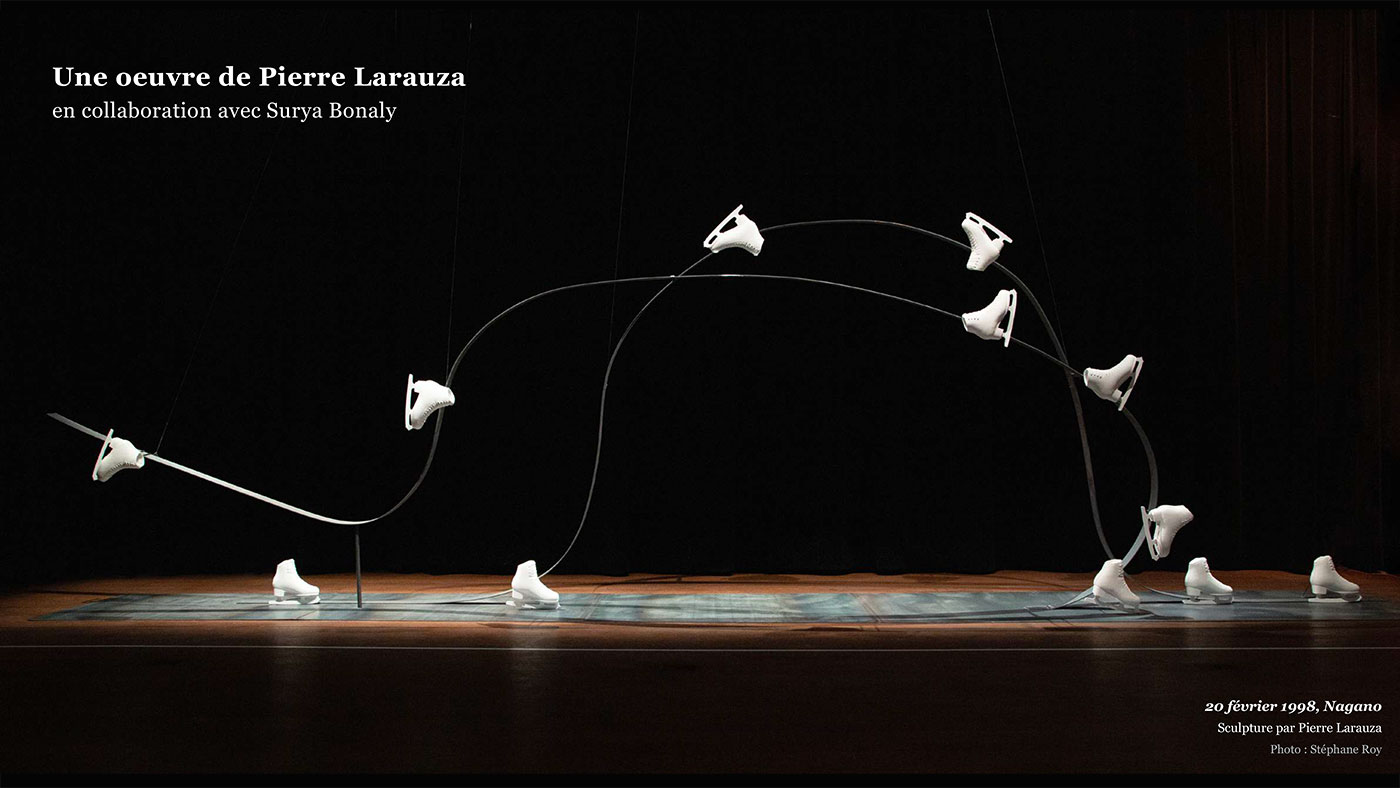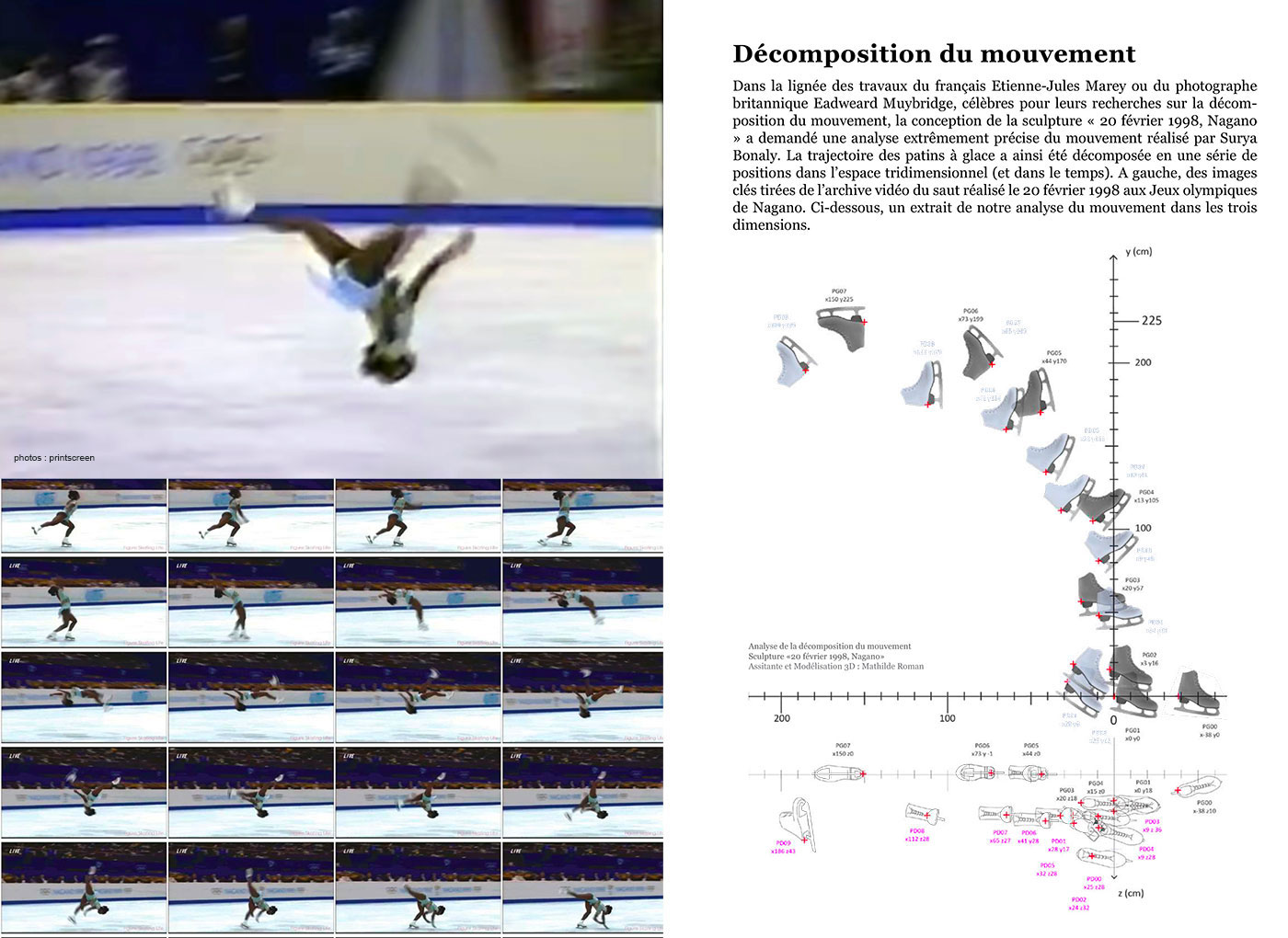 Pierre Larauza
Pierre Larauza is the artistic director and co-founder of the Belgian-based contemporary dance company t.r.a.n.s.i.t.s.c.a.p.e with the dancer and choreographer Emmanuelle Vincent. Since 2003, they have explored the movement through contemporary hybrid forms, crossing disciplines in a multicultural approach. Their performances and films have been performed or exhibited worldwide in more than 26 countries.
Currently Php student at Université Libre de Bruxelles and Paris 1, his areas of study are "Artistic practice of historical reenactment", "Choreographic immersion in museums" and what he calls "Documentary sculpture": his main research where he develops in sculpture the reenactments of historical body movements (sport movement or human interest stories).
Larauza's first publication is currently being published: an article dedicated to the analysis the contemporary museum mutation through four choreographic variations experimented at the Hô-chi-minh-city Museum of Fine Arts in Vietnam. A second article in progress is about the syncretic dimension that Cindy Sherman's Untitled Films Stills (1977-1980) maintains on several levels with cinema.
Beside his creations and theoretical researches, Larauza is also co-founder of Máy xay sinh tố, an interdisciplinary and transcultural laboratory based in Vietnam founded in 2016 with the artists Emmanuelle Vincent and Thy Nguyen Truong Minh in association with the University of Fine Arts in Hô Chi Minh City and more recently the art school ERG.
Researcher, sculptor, set designer, choreographer, filmmaker or even performer, Larauza's roles intertwine and the concept of specialization gradually fades away to nourish his interest for in(ter)disciplinary approach. Hybridity imposes itself naturally in Larauza's practice and theoretical research.
Check also
30 août 1991, Tokyo – Pierre Larauza @ La Nuit Blanche Paris (Fr)
Des mouvements que je n'aurais jamais pu faire – Pierre Larauza ! | Tour à plomb (Be)
Focus t.r.a.n.s.i.t.s.c.a.p.e – Exposition + événement – Jacques Franck (Be)
Surya Bonaly
Surya Varuna Claudine Bonaly (born 15 December 1973) is a French retired competitive figure skater. She is a three-time World silver medalist (1993–1995), a five-time European champion (1991–1995), the 1991 World Junior Champion, and a nine-time French national champion (1989–1997).
Bonaly is the only Olympic figure skater to land a backflip on only one blade; she performed it at the 1998 Winter Olympics in Nagano, Japan.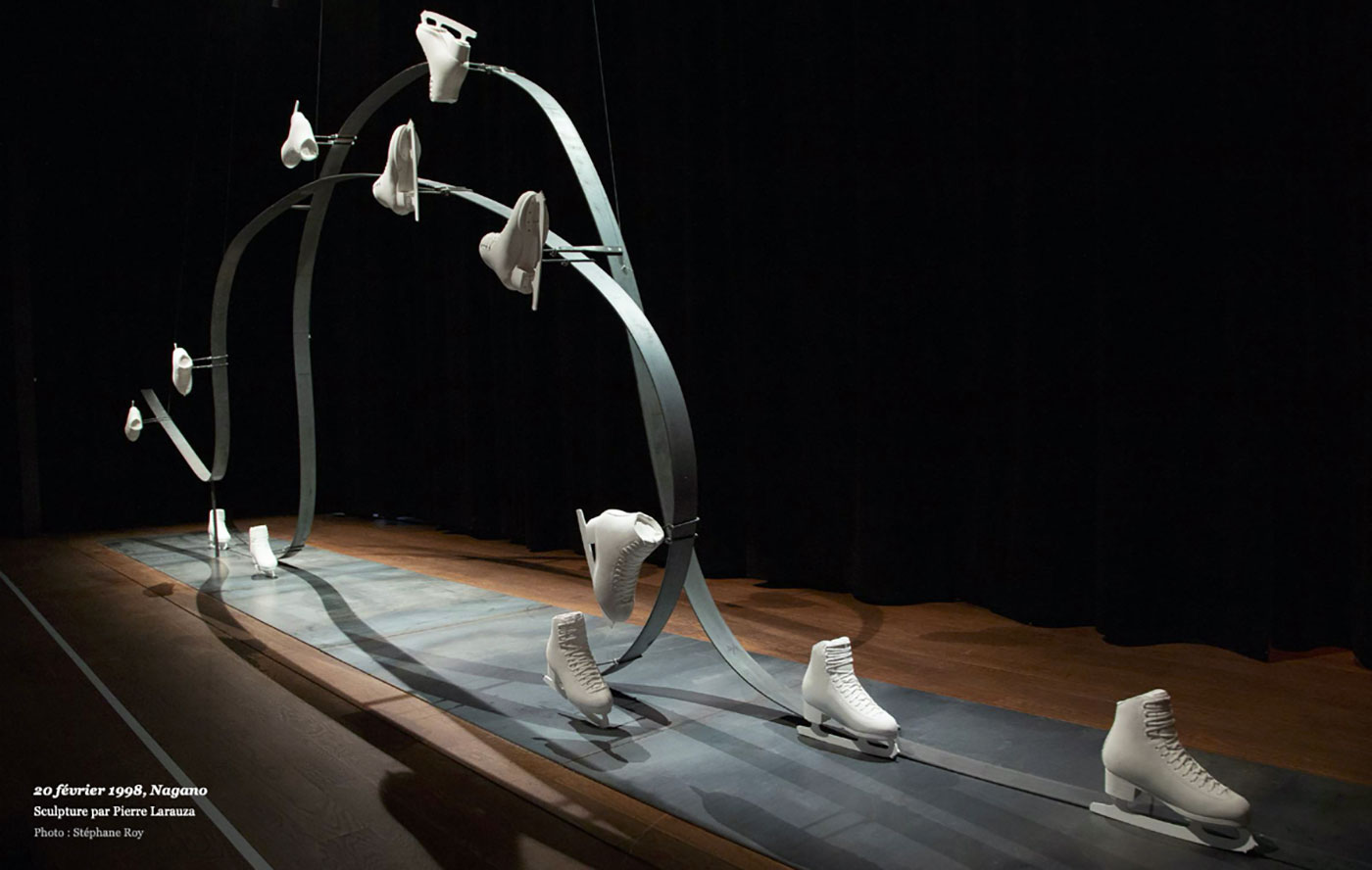 Infos
27.08 > 05.09.2021
Musée La Boverie

Parc de la Boverie, 4020 Liège

Belgium
Production
En piste – in the framework of euregional ELEMENTS project, a proposition of Espace 251 Nord
Ville de Liège – La Boverie
20 février 1998, Nagano
artwork by Pierre Larauza, in collaboration with Surya Bonaly
With the support : CiAsp Research Center, Transcultures, European Pepinieres of Création et t.r.a.n.s.i.t.s.c.a.p.e