Laureat of the European Pepinieres of Creation – Wallonia-Brussels Federation residency hosted by Transcultures in the fall of 2021, artist-researcher Gaëtan Le Coarer developed part of his project "AN DOMHAN", which he is presenting today. as part of her defense of her thesis "Comic Strip and Mixed Reality, towards new spaces of narration" under the supervision of Ghislaine Charbert and Marc Veyrat. This defense follows research work on creation and visual methods developed over 3 years as part of a doctoral contract.
Immersing yourself in a comic book project today means rethinking a way of making this comic book and the image that we communicate of it. Through a creative research methodology, we are developing a mixed reality device. That is to say an inference of virtual reality and augmented reality crossed by a singular narrative architecture.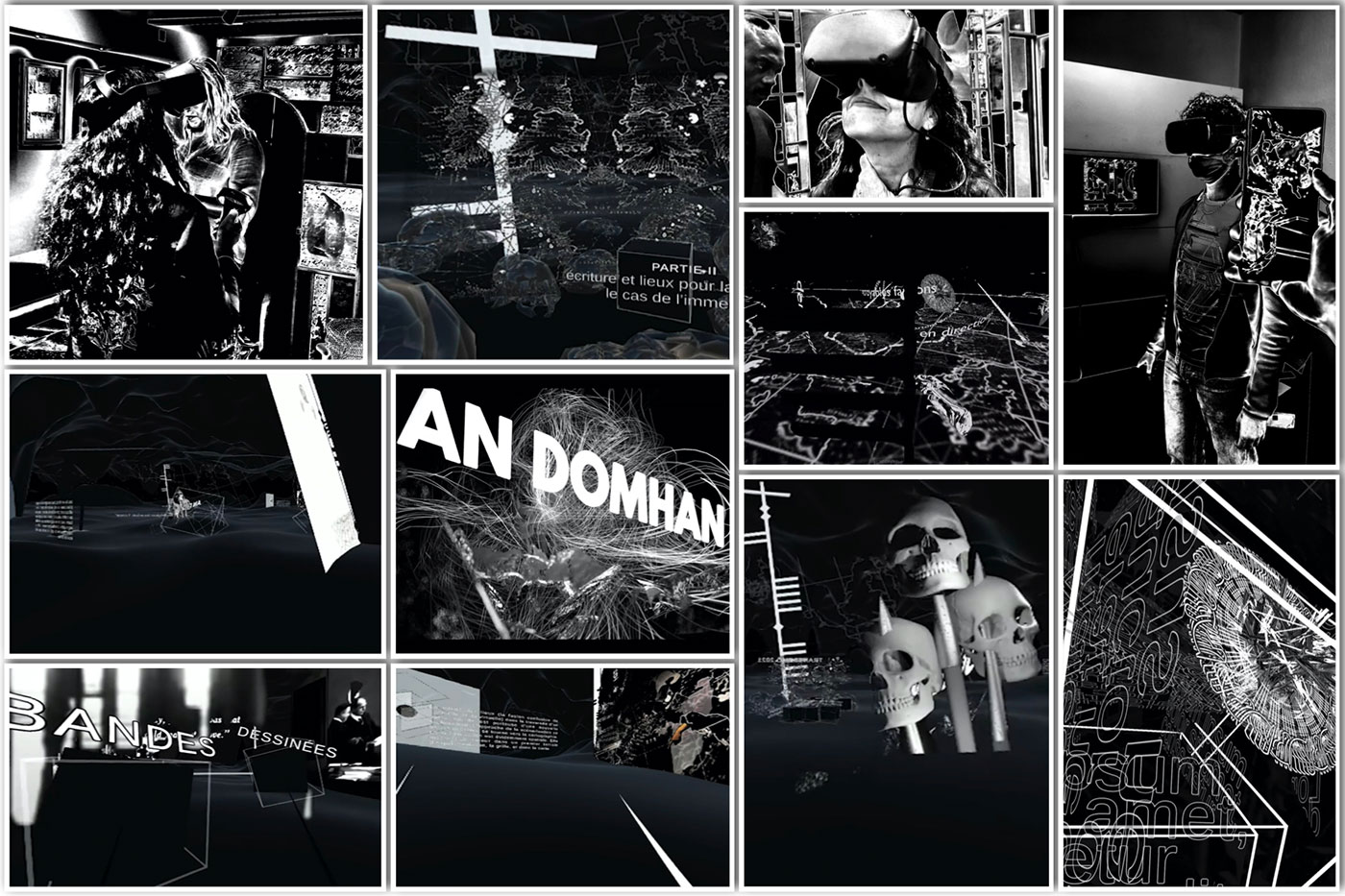 An Domhan  ( "the earth") is an immersive experience designed from a research-creation methodology as part of the thesis of creator / researcher Gaëtan Le Coarer, whose subject is: "Comics  and Mixed Reality, towards new narrative spaces ".
The experiment is based on the adaptation of an Irish Celtic legend into mixed reality. Two users, one equipped with a virtual reality headset and the other with a smartphone, each embody one of the characters of the legend immersed in an underworld. They operate in two seemingly different environments. Actions taken by one user interfere with those of the other user.
Gaëtan Le Coarer is a contract teacher in the "Hypermedia and Communication" department. He is responsible for License 1 – Information and Communication and IR referent of the Hypermedia Communication department. He's a bachelor's degree in applied arts – design course (design and digital culture option). His research focuses on uses and methodologies in research creation. He develops concepts from a practice of drawing, black, to open questions associated with the narrative in terms of architecturexture, and spatialization.

He is hosted in an artist/researcher residence by Transcultures in Autumn 2021 in the framework of  the European  Pepinieres of Creation – Federation Wallonia-Brussels.
Jury

Ghislaine CHABERT
University Professor, HDR, Lyon III, Thesis Director
Marc VEYRAT
Lecturer, HDR, Artist Researcher, Paris 8, Thesis Co-Director
Antonella TUFANO
University Professor, HDR, Paris 1 Panthéon Sorbonne, Rapporteur
Ghislaine AZEMARD
Professor Emeritus, HDR, Unesco Chair, FMSH, Paris 8, Rapporteur
Khaldoun ZREIK
University Professor, HDR, Paris 8
Carole Brandon
Lecturer, Artist Researcher, USMB
Jacques IBANEZ-BUENO
University Professor, HDR, USMB
Philippe Franck (guest member)
Director of Transcultures & European Pepinieres of Creation

Program

Opening, welcome from 10 a.m.
visit the exhibition, discussion and VR, AR, XR experiments

Defense from 1:30 p.m.
presentation of the thesis

Buffet from 5.30 p.m.
visit the exhibition, discussions and experiments VR, AR, XR
Infos
06.12.2022 | 10:00 > 20:00
Free entrance
Galerie Espace Larith
39 Rue du Larith, 73000 Chambéry, France
Production
The project is led by the LLSETI laboratory, and the Hypermedia Communication department of the Savoie Mont-Blanc University.
With the support of Transcultures and European Pepinieres of Creation.