In pre-announcement of the publication of the book "Akachic Diaries – Detroit Degree Zero and other crisis writings" to be published in early 2021 by Aquarius Press editions, Biba Sheikh is invited to unveil some extracts from these burning/moving texts which were commissioned by Pépinières European Creation and Transcultures as part of the No Lockdown Art initiative (NoLA 2020) and more particularly "confined correspondence" in which several authors from different countries participated.
These "Akashic Diaries" (akashic of "akash" in Sanskrit for the celestial word, the hidden meaning or even the past, present and future unwritten history) are poetic fragments and sketches nourished by the visions and experiences of the artist of Lebanese-American origin living in Detroit during the first confinement. This alter journal was supplemented by texts inspired by the various racist events (including the murder of Georges Floyd by a police officer) which divided American society and shocked the world and some older writings. Philippe Franck (director of Transcultures and European Nurseries of Creation and Cultural Criticism) wrote the preface of the book, Dr John Telford (activist and author from Detroit) a prologue to 'Detroit Degree Zero' and Nada Dalga Mouni (founder of The World in America, nominated for the Nobel Peace Prize) the epilogue.
Note that extracts from this publication read by Biba Sheikh will be performed by sound artist Paradise Now and will be included in his new album 'No Lokdown Sonopoetics' (also a No Lockdown Art – NoLA 2020 initiative project, to be released in 2021 on the label Transonic) for which he has collaborated with several authors (from various countries) who have written new texts in the lockdown context. In this perspective, soundscapes of Paradise Now will accompany the texts read in Detroit by Biba Sheikh on November 12, 2020, foreshadowing a more extensive collaboration.
The other guest to this online live reading organized under the auspices of Aquarius Press, is John Jeffire (Detroit). The author of the novel "Motown Burning" (2007) will be reading from his new poetic collection "A Temple for Tomorrows" (coming in 2021 also from Aquarius Press).
Biba Sheikh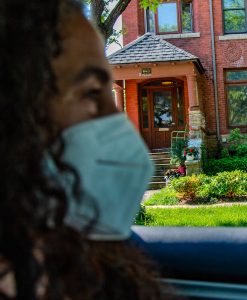 Habibah (Biba) Sheikh began studying mime with Marcel Marceau and later with members of the Polish Laboratory Theater. She has gathered inspiration for her storytelling from a number of different cultures: USA, Paris, Sevilla (with the Gypsy/Roma population), Berlin, Amsterdam, Beirut, and Greece, where she set up a platform with 13 artists from the Mediterranean who make visual works based on her stories of her journey with the "abandoned children" of Lebanon. Her work is also featured in the film Citizen Xenos by Lucas Paleocrassas, which follows life in refugee camps where youths engaged in theater and voice workshops.
In Detroit, Biba's theater productions and exhibitions will be featured in Mitli Mitlak (Like You, Like Me), an exhibition and book with 13 Mediterranean artists. She has recently been named Vice President of The World In America, advocating cultural diversity and global awareness. She is also a volunteer for the International Institute of Metro Detroit in Global Education.
Her upcoming book, Akashic Diaries: Detroit Degree Zero and Other Crisis Writings (2021), was commissioned by Transcultures Europe – Pepinieres of Creation. The Director, Philippe Franck, is also the director of the international sound art festival City Sonic, Transnumériques (Digital Cultures Biennale) and will write a contextual introduction.
John Jeffire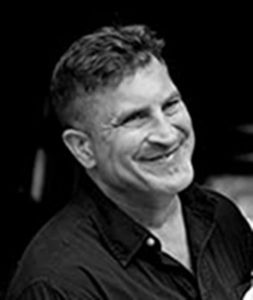 John Jeffire was born in Detroit. In 2005, his novel Motown Burning was named Grand Prize Winner in the Mount Arrowsmith Novel Competition and in 2007 it won a Gold Medal for Regional Fiction in the Independent Publishing Awards. Speaking of Motown Burning, former chair of the Pulitzer Jury Philip F. O'Connor said, "It works. I don't often say that, but it has a drive and integrity that gives it credible life….I find a novel with heart."
In 2009, Andra Milacca included Motown Burning in her list of "Six Savory Novels Set in Detroit" along with works by Elmore Leonard, Joyce Carol Oates, and Jeffrey Eugenides. His first book of poetry, Stone + Fist + Brick + Bone, was published by Detroit's Aquarius Press and nominated for a Michigan Notable Book Award in 2009. Former U.S. Poet Laureate Philip Levine called the book "a terrific one for our city."
His newest book, a chapbook of poems entitled Shoveling Snow in a Snowstorm, is now available through the Finishing Line Press.
Biba Sheikh Akachic Diaries (excerpts)
April 8 2020
Lay on the ground, as in a casket, adorning yourself with offerings: sing repetitiously: 'Take these grapes! In case the soul is hungry and returns to life. In case it enters the body, to walk again!' Then, search for yourself; look up and down in the room, crawling to many corners, and ask: 'Where are you? Where are you?' Say, "It's raining, I don't have my umbrella"…visualize the casket you are in… is being lifted… as the procession begins winding through the market square: monk songs mixed with money chants symbolize an institution. A war machine. An ancient dance. Exclaim, "I am afraid of death! If I wasn't, I would protest loudly!"
Stand and fall…resurrect with invisible strings…making you walk… making you talk: speak gibberish here. A revelation! Say, "I'm a speck… inside of another body that is immense!"
When it stands, we fall down its tubes. And we resurrect with invisible strings. Have a day dream that you are on a green field. In the dream, sleep deeply, and find yourself on a boat on the sea.
Detroit Degree Zero
Each holding an Earth/globe in the palm of both hands, extended in front of him/her as the sound of voices created the psychological safety net for the newcomers; yes: We all sang together, In front, of a burning Earth/symbol. A Powerful message is written during the act with chalk/chalk paint on the ground in front and to the sides of the burning Earth symbol.
(…)
In the actions of the street, we tried to keep compassion in mind… not deliberately oppose police, but Justice and depression; it is the fabric of institutionalized bodies. They are violent enforcers of the system which broke down George Floyd and Brianna Taylor, and countless others… each beaten and dwindling…down to the ground…the feeling is of breaking and being held tight with oppressive strength, collectively, it is experienced as a spiritual violation of one's culture.
(…)
Infos
12.11.2020 | 19:00 (Eastern Time – US and Canada | UTC -5)
13.11.2020 | 01:00 (Central European Time – Europe | UTC +1)
Zoom Meeting from Detroit (USA)
Production