This World 04 in VR, included in the artwork XR i-REAL, imagined, programmed by Jonathan Juste and whose soundtrack is signed Paradise Now, is "architextured" (Henri Lefebvre) around the totality of the words used in Alice's Adventures in Wonderland, famous novel published by Lewis Carroll in 1865.
Inside this Obscure World, « ob-scene » of the text (Georges Bataille), the words re/constitute as we progress walls of blinding texts/images progressively revealing passages, « Entre-eSPACES » (Carole Brandon) through which we can progress…
The electro-rythmic-organic music of Paradise Now (BE/FR) roams the floating walls of this Lettrist maze as if looking for a mutant prey.
Direction : Marc Veyrat — Société i Matériel
Coding & Conception 3D : Jonathan Juste — Pixelpirate
Sound : Paradise Now
Coding, Developpement VR & Webdesign : Lise Missillier — 89/92 R&D
Marc Veyrat
imateriel.org – 8espace.com

Artist, Agrégé, HDR Lecturer in Art Sciences
Director Hypermedia Communication Department – Savoie Mont-Blanc University
CiTu Paragraphe Laboratory – Paris 8 University
Associate researcher UNESCO / ITEN Chair (Innovation, Transmission, Digital Publishing)
Marc Veyrat is interested in the complexity of informational formatting – in digital, visual and contemporary art – of networking and communication strategies, in particular in Mixed Reality (XR) devices and through networks. social or the web.
Jonathan Juste /// Pixelpirate
pixelpirate.fr

Freelance interactive designer
Lise Misillier /// 89/92 R&D
8992.fr

Multimedia Developer & Interface Designer
Co-Founder & Co-Manager 89/92
Matthieu Quiniou
Doctor of law, teacher-researcher at the University of Paris 8 (Paragraphe Laboratory),
Member of the UNESCO ITEN Chair (FMSH / Paris 8)
Lawyer at the Paris Court of Appeal
Matthieu Quiniou works mainly on digital issues (blockchain and AI) and is interested in new forms of expression and monetization of art.
Co-Founder & Co-Manager 89/92
Paradise Now /// Philippe Franck
philippefranck.eu – paradisenow.be

Transcultural and sound designer / producer / creator, Belgium.
Philippe Franck has been developing the "Paradise Now" project since the 1990s, which favors an actively transversal and collaborative approach. He favors a sensitive and cinematic approach that embraces different influences and fields (electronics, sound art, post-rock, post-pop, improvised music…).
i-REAL project
i-real.world

i-REAL is a project of the i Material Company (Marc Veyrat), Pixel Pirate and 89/92 R&D. It's a mixed reality project that mixes board game and VR. It is part of KITCHEN XR, a university and artistic research project developed by Carole Brandon (LLSETI Laboratory) which combines the creation of spaces dedicated to mixed realities, the design, co-production of content and university training.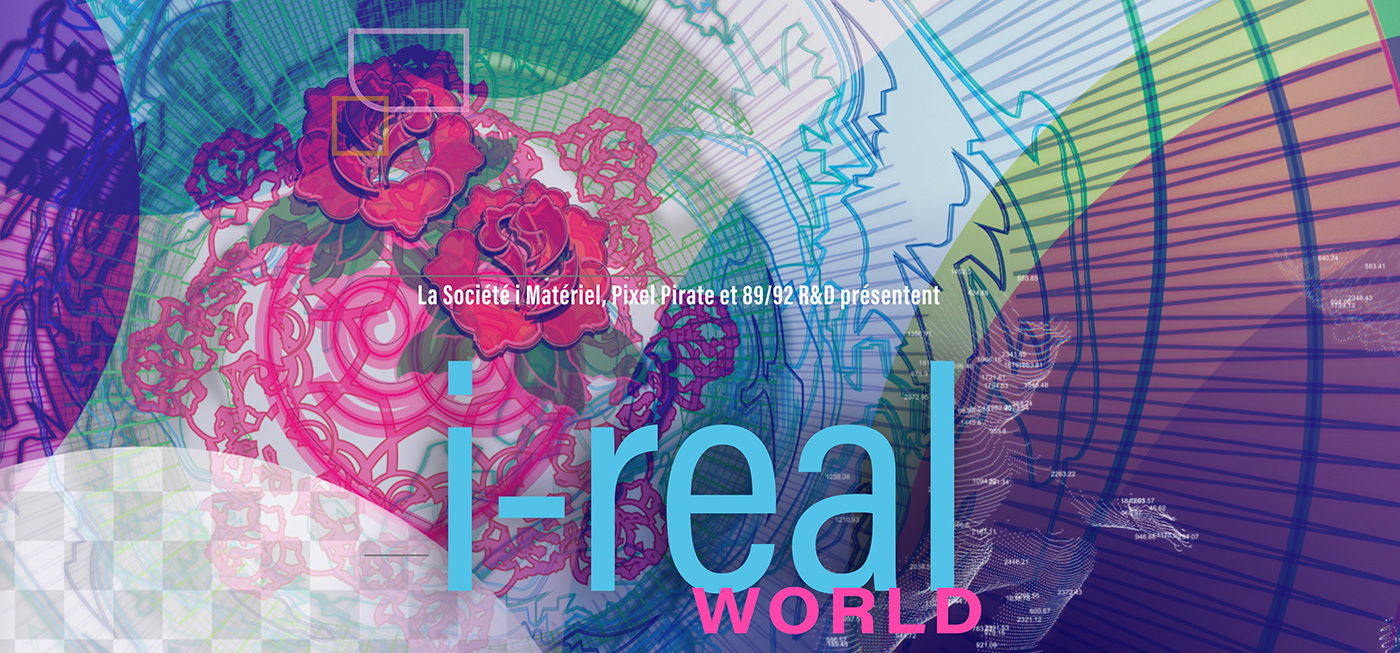 Infos
14 > 16.04.2021
Laval Virtual
Production
Marc Veyrat (société i-Matériel) received the support of the European Pepinires of Creation and Transcultures for the i-REAL project
Partners i-Real project : 89/92 R&D – Pixelpirate – World XR Forum – XR KITCHEN – Transcultures — Pépinières Européennes de Création – LaboratoireS LLSETI / Texte Image & Arts Numériques (USMB) — Laboratoire CiTu Paragraphe (Paris 8) – Chaire UNESCO / ITEN – Fondation Maison Sciences de l'Homme Paris — [ – 8 – ] eSPACE – Institut Français / Culture VR