Longtime transatlantic accomplices, Transcultures, Center for digital and sound cultures (Charleroi) and Rhizome, cultural organism managing events and interdisciplinary shows of living litterature (Quebec) are offering a new edition of 'E-critures hybrides'. This bilateral event associates creation and reflexion by giving a new visibility to those poetic-intermedia new forms (by Belgian, Quebec and French artists/writers/researchers), as well with performative and audiovisual devices than with connected devices, in the framework of the Pépinières Européennes de Création.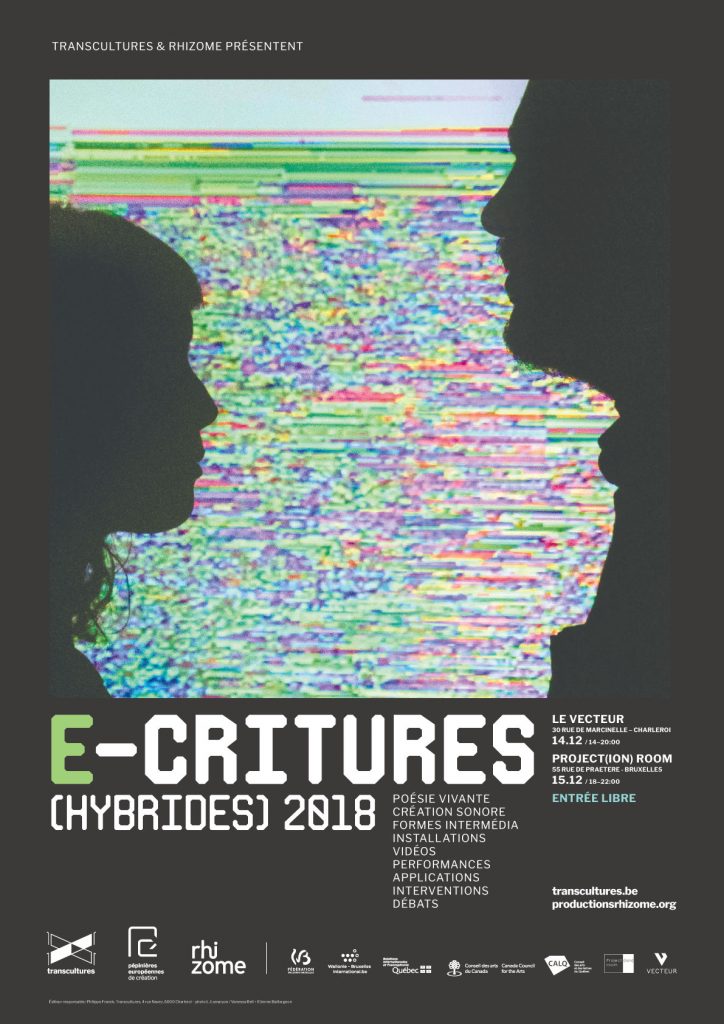 The spaces of the Vecteur (where Transcultures is based) will be invested by performances (creation or first showing) of Eric Therer/Quelque piéton + Mademoiselle Emy (Cinq histoires non pornographiques), Vincent Tholomé + Maja Jantar ('Sabi'), Vanessa Bell + Etienne Baillargeon ('TP4307'), and audiovisual installation of Mickaël Lafontaine ('L'Audiographe') as such as a demonstration with Simon Dumas, also presenting his poetics connected devices 'Poésies tactiles' and 'Mauve motel' (on ipad) and two videos of the series 'Poévies' (here with the participation/reading of the performer/editor/agitator from Quebec Richard Martel and the Montreal poetess Catrine Godin) initiated by Philippe Franck in complicity with Zoé Tabourdiot.
A round table (moderated by Philippe Franck & Simon Dumas) will also be gathering academics (as such as Ariane Savoie/UQAM and Sofian Laghouati/UCL) and Belgian, Fench and Quebec designers during the afternoon.
At Project(ion) Room : Aperitif and introduction by Philippe Franck (Transcultures) and Simon Dumas (Rhizome) + performances by Vanessa Bell + Etienne Baillargeon, Vincent Tholomé + Vanessa Bell, Simon Dumas + Mikaël Lafontaine, Eric Therer + Mademoiselle Emy + videos by Philippe Franck & Zoé Tabourdiot (with readings by Catrine Godin and Richard Martel), AV installation of Mickaël Lafontaine.
Infos
14.12.2018 – 14:00 > 20:00 | Le Vecteur – Rue Navez 4 – 6000 Charleroi
15.12.2018 – 18:30 > 20:00 | Project(ion) Room – Rue de Praetere 55 – 1180 Bruxelles
free
Production
Production : Transcultures, Rhizome in partnership with Le Vecteur (Charleroi) and Projection Room (Bruxelles).
With the support of the : Conseil des arts et des lettres du Québec,

Cultural Development Agreement between the

Ministère de la Culture et des Communications and the Ville de Québec, the Commission mixte permanente Québec/Wallonie-Bruxelles supported by the Ministère des Relations internationales du Québec and Wallonie-Bruxelles International, and the Conseil des arts du Canada, the Présidence of the Fédération Wallonie-Bruxelles and the Délégation du Québec à Bruxelles.