The European Pepinieres of Creation support the call for applications for the 17th edition of Arte Laguna Prize which will be held from March 11 to April 26, 2023.
Prices
€26,000 (including €10,000 for the first prize) + various exhibitions and residencies.
Deadline : Nov. 22, 2022

Contexte
Arte Laguna Prize, the world's most influential competition for artists and designers, showcases and promotes creative talent. With 17 years of history, Arte Laguna Prize offers the opportunity to join the huge network of collaborations around the world. Exhibition of the finalist artists in the breathtaking location of the Arsenale of Venice and much more.
Prices
10.000 € first prize Overall Winner
5000 € for an installation in Siena, Italy
3000 € for a work that uses steel
3000 € for the best work that enhances Sustainability
2000 € for a water-themed work
1000 € each for 3 Under 35 artists
And also
36 days of exhibition at the Arsenale of Venice for 240 artists
E-commerce on artelaguna.world
Exhibitions in Veneto and Italy in 2023
1 exhibition in Beijing for the video art section's finalists
1 exhibition at Cris Contini Gallery in London for 1 artist
30 days of exhibition at the Mediterranean Biennale for 1 artist
6 months of residency in Treviso, Italy
6 weeks of residency in Barcelona, Spain
4 weeks of residency in Bilpin, Australia
10 days of residency in Favara, Italy
15 days of residency in Lucca, Italy
The newtork

Each year, Arte Laguna Prize collaborates with high-level international partners in order to provide artists with opportunities around the world. Each partner will choose an artist for the following special prizes:
Artist residencies
Art Galeries
Companies for Art
Festivals and Exhibitions
Award for Art and Sustainability
Award for Emerging Artists
The Jury

The jury is made up of important curators and directors of museums active in different countries. The jury selects the 120 artists who will exhibit at the Arsenale Nord in Venice.
Mohamed Benhadj
North Africa and Spain – Curator and Founder of AlTiba9
Raphael Chikukwa
Zimbabwe – Executive Director of the National Gallery of Zimbabwe
Giulia Colletti
Italy – Public Programs and Digital Sphere's curator at Castello di Rivoli Museo d'Arte Contemporanea, Turin
Paul di Felice
Luxembourg – Art Curator, Critic and Art Historian
Chloé Hodge
United Kingdom – Project Manager at the Tate Britain, curator and producer
Dick Spierenburg
Netherlands – Creative Director of IMM Cologne – The international furniture and interiors fair
Xiaoyu Weng
New York and Toronto, Curator and Head of Modern and Contemporary Art, Art Gallery of Ontario
INFORMATIONS COMPLÉMENTAIRES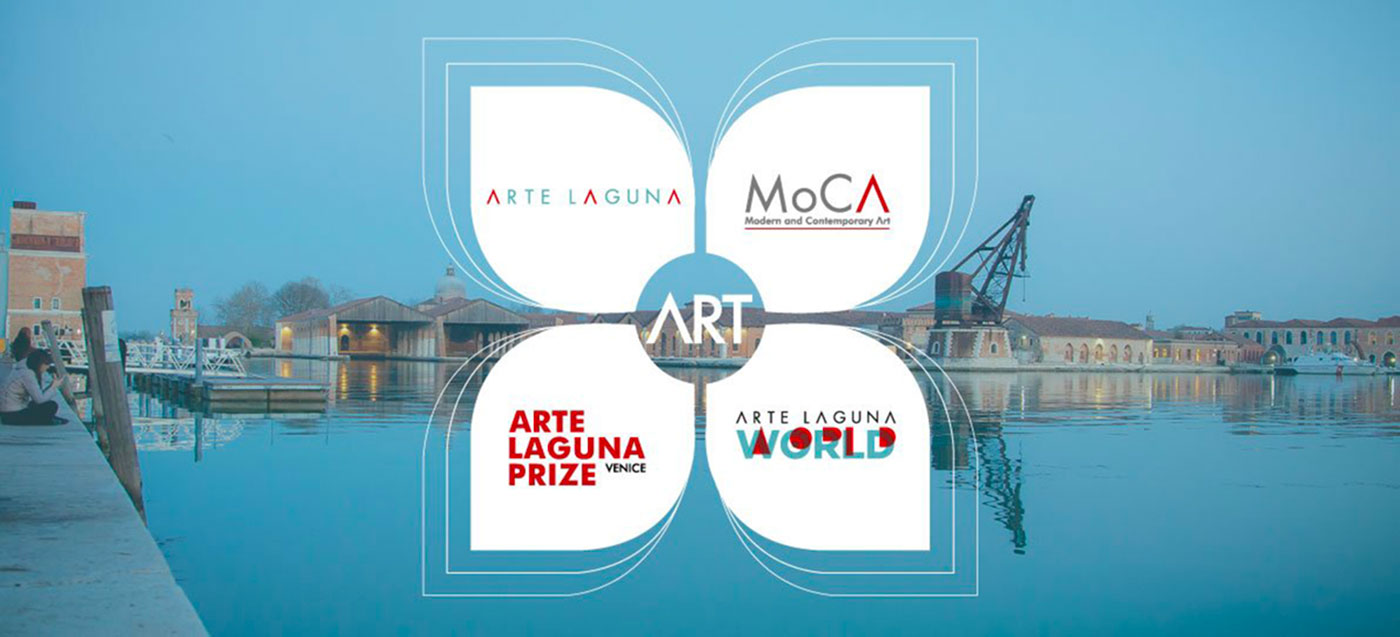 The brainchild of Cultural Association MoCA, Arte Laguna Prize is an international art competition dedicated to the visual arts, in particular painting, sculpture, photography, video art and performance, virtual and digital art. It was created to give the opportunity to art talents, more or less young, to emerge, to be noticed by the general public and by the jury composed of important names in the contemporary art scene, as well as to allow a democratic comparison between international artists.
The goal is to create an increasingly authoritative and influential system in the world of contemporary art by involving new players from year to year. Since 2006, a virtuous circuit has been created that sees many diversified realities as actors: Foundations, Museums, Galleries, Residences and spaces for art, Made in Italy companies and international brands, with which special projects were designed, then transformed in concrete opportunities for growth and momentum for the professional career of artists.