Yadleen (Freiburg, De)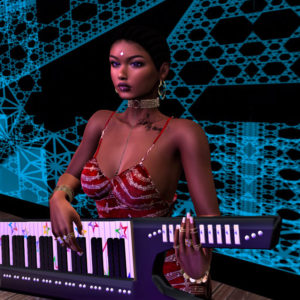 Yadleen started producing electronic music in 2012. She never had any musical education and learnt from the start how to play instruments. Since then she attended audio engineer classes. Her main tool for composing and producing music is a DAW (Digital Audio Workstation) – a PC program – to compose and produce music. She mixes very different styles in her songs: electronica, ambient, jazz, lounge, experimental, industrial, traditional music from all around the world... Even if some of them seem to be totally opposite, she always manages to combine them in a very harmonious way. Her music obeys only to her own rules.
She started Second Life concerts in 2015. Sometimes she performs improvised live sets. Many of her music sets are composed for special events, like exhibitions openings or visual performances. A few of these concerts have been a "cooperation" between events in the real world synchronized with Second Life events. Artists from both worlds could see and listen to each other. One of these events was the LIT UP poetry Festival of Singapore in 2018. She also produced musics for several "machinimas" (videos produced in virtual worlds).